Don't Let the Lights Go Out on Your Business
With technology an increasingly big part of business strategy it's important to know that we can count on it. Unfortunately, the number of power outages is on the increase, which means exactly the opposite for productivity. If this news is giving you a cold feeling in your chest as you imagine your datapocalypse, fear not – you can protect your business against it; it's just about asking the right questions.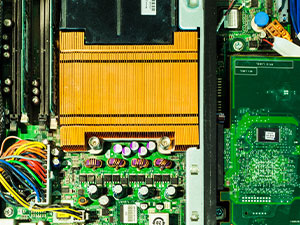 Whenever we were doing presentations at school our teachers would always tell us that if we're relying on technology we have to assume that the tech will fail; from faulty mics to PowerPoint slides refusing to play ball, they loved nothing more than a laugh at the expense of their human overlords.
To guard against this we were told to always make sure there were spare batteries, a spare projector, an extra copy of the presentation saved in a separate location – all the basic stuff that you probably still do if you're presenting something now.
Many (many) years later, and now that tech is part of our lives on a much larger scale, it's important to have the equivalent of these contingency plans on a much larger scale.
According to the latest Blackout Tracker report, from power management company Eaton, there were 640 power outages in 2015, which is – to put it mildly – a hecktonne more than the 537 incidents in 2014. And unfortunately it doesn't look like it's going to get any better…
Dr Jenifer Baxter, head of energy and environment at the Institution of Mechanical Engineers, and lead author of the report, said: "The UK is facing an electricity supply crisis. As the UK population rises, and with the greater use of electricity use in transport and heating, it looks almost certain that electricity demand is going to rise."
The IT segment lead for Eaton summarised the consequences of the problem nicely saying: "Downtime is, in a word, disastrous."
Outages like these could easily cost your business thousands of pounds, which is why it's so important to ensure that your hosting provider has your back when it comes to keeping you up and running at all times. The best way to do this is to check whether your data centre has redundant power so that in the event of an outage you're not affected.
At UKFast, our data centres operate at Tier 3 standards for uptime and availability. In tech talk, this means concurrently maintainable systems including UPS, standby diesel generators and high-density infrastructures in excess of 15kW per rack. In English, this means that we're able to give our clients a 100% uptime guarantee.
Oh, and the report also found that the South experienced more outages than the North,just sayin'…
Find out more about what our data centres are doing to keep your solution safe and running on our data centres web page. You can also take a virtual tour or come and have a look around yourself 'IRL' for total peace of mind!