The Game-Changer of the Business World
Desktop as a Service (DaaS) is seeing a huge growth in popularity due to growing demand for mobile working and BYOD. But, with the complexity and scale of solutions varying massively how will DaaS take off over the coming years and what does the future hold for it? At a recent DaaS round table at UKFast Campus we asked the experts for the business benefits. Lowri has the lowdown.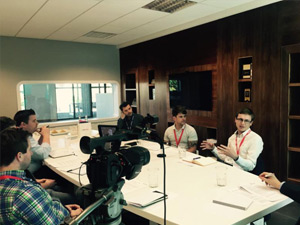 Mark Shotton, managing director at Datesand, believes Desktop as a Service is a game changer in the business world.
He explained: "Having DaaS is a unique selling point to customers – it can put you ahead of the curve in an instant. Fastdesk allows us to grow at a pace we didn't know we could do. Desktop as a service is a huge business enabler."
Chris Miller, quality operations manager at Datesand, agrees.
He said: "What's going to put us ahead is the simplicity of it. It's such a fantastic system – we can have employees accessing all of our information and services from the touch of a button. We have confidence in our team's ability to pick up the service immediately – from a business perspective that's huge."
Roy Hibbert, business development manager at Citrix, believes businesses do not know enough about Desktop as a Service to reap the benefits.
He said: "The rate of change itself accelerates dramatically in every industry.  A lot of people think they have the best understanding of technology but in reality they are very far behind. It's a mind-set change and an educational piece – more businesses need to know about it. For us it's an everyday experience but for a lot of people they don't have the correct understanding."
Cisco's James Carty believes DaaS acts as a differentiator for customers.
He said: "The important element of it is the 'as a service' piece. That's where the market is going, that's what customers are looking for and that's what they expect. From a software layer DaaS is improving more and more. The stability is fantastic."
Listen to the experts discuss the best reasons to use Desktop as a Service:
DaaS is one flavour of cloud-hosted desktops – download our whitepaper for more insights on which is right for you and the benefits of using a cloud-hosted desktop!