Fridays at UKFast – 8th April 2016
Thank God it's Friday… because it's time for the Friday roundup! This week we've been talking about the effect speed can have on your site, and asking for your help! We've also got a guest blog on cloud security, and sharing the lowdown on our safe file sharing platform. Finally, if you're looking for some inspiration then look no further – come down to our Inspire MCR. Now roundup and chill with the best of the rest!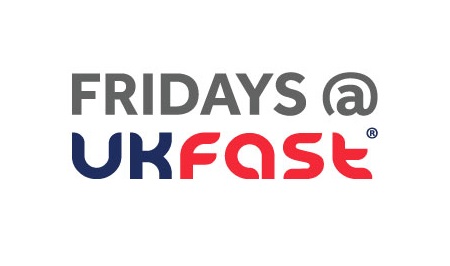 Whatsappening with encryption?
You've probably noticed there's a little yellow bubble popping up in your WhatsApp feeds. It's announcing end-to-end encryption for the messenger app and means that anything you send via WhatsApp – from texts to voice calls and videos – will be encrypted.
Therefore, in theory at least, it'll be unreadable by the government, attackers, or even WhatsApp should it get intercepted, as only the recipient phone will have the necessary decryption key. It's a fairly bold move in the face of the Apple/FBI ruckus that's been happening recently, but is a step in the right direction for security. If you're not already using WhatsApp for messaging, this is a serious reason to now consider it…
See smarter
Samsung has just patented augmented reality contact lenses, which would project computer generated images straight onto your little peepers. The idea is that they'll be less bulky and better image quality than the existing smart glasses and are fitted with sensors controlled by blinking and eye movement.
It's not confirmed yet whether Samsung's definitely bringing the product out but it also trademarked the name 'Gear Blink' around the same time…so, ya know. It's looking pretty likely that smart lenses will happen in some format though, as Google's been chatting about smart contact lenses, which can test the body's glucose levels, for a while now too.
Have you Reddaboutit?
The first official, native Reddit app that is. Yep, Reddit finally has its own, official app, and although there have already been 'Reddit apps' – such as Alien Blue which started off as third-party before Reddit ended up taking over – this is the first time Reddit has launched its own, which is going to be getting more than a few people hot under the collar!
Many of the features will essentially be the same but the team says it's rebuilt it "faster, more modern and more usable". If you download the app within the next week you'll get three months free Reddit Gold (the premium version), so fingers on the buzzers folks. The site's also introduced a block button to help users fight harassment, making it a pretty big week for the billboard-esque site.
Talking of augmented reality, turns out all you really need is a felt tip and an iPhone…