Our New Hire is a Force to be Reckoned With
No more Tarentino references, no more comparing data centres to famous children's books, no more talking about my mum's obsession with Lark Rise to Candleford. Our readers might have come to expect a more relatable – even lighthearted – look at tech from the UKFast blog but from today it's all serious business. We're thrilled to announce that a newly appointed Director of Fun Enforcement is starting and we're sure he'll be increasing productivity in no time. He certainly motivated the Jedi.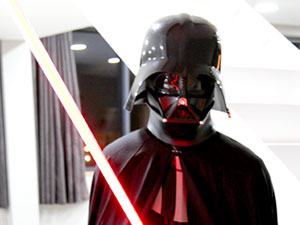 Joining us from Shoreditch digital marketing agency The Dark Side, our new appointee Darth Vader will be trying out some new approaches to productivity as of today.
Our CEO Lawrence Jones MBE said: "We believe that an effective working environment is one where employees are friends rather than just colleagues. The UKFast team has fun, they're energised, and that means they give a better level of service to our customers.
"The addition of Darth gives us an incredible opportunity to take this to the next level. At first we weren't sure whether he would be the right fit, culturally, but after spending some time with him face-to-face he convinced everyone that he's the right man for the job, and also that he should become our highest earner.
Darth's unique skillset – know-how in physical encouragement, holistic psychological motivation and mind-control – mean that he's a fitting choice for the team in many ways!
Lawrence said: "We were spending so much on taking the team out skiing that it ended up making financial sense to invest in a hotel. Darth's previous experience on Hoth was a real selling point for us in this respect. He has all the credentials in snowy environments and we expect him to make a big difference at Le Farinet.
"We also expect he will have a real impact with our apprentices and in our training centre, where everyone in the business is given the opportunity to develop."
Vader himself is clearly also excited to be a part of a unique team, saying: "UKFast don't know the power of the dark side of the force. They think that focussing on fun, positive energy and people development is the way to realise their ambition of galactic domination, but I'm here to show them that fear, hate and suffering are the only way they can achieve their aims."
We're sure you'll join us in wishing our newest death – sorry, superstar – all the best as he embarks on his UKFast journey!
To find out more about becoming a UKFast superstar take a look at our careers webpage – we're hiring!