UKFast Wins Employer of the Year
Last night we were incredibly proud to take home the title of Employer of the Year at the North West Business Desk Business Masters Awards 2016!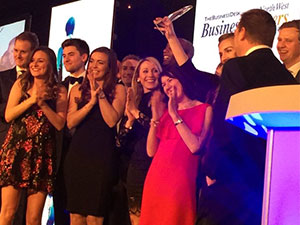 We're on a mission to make Manchester the number one tech city in the UK, if not the world, and part of that comes down to keeping the city's talent here in the city. Creating awesome workplaces, we're doing our best to set an example to tech firms to show that you don't need to  be Google or Facebook to do things differently.
We've come a long way from a back-bedroom business of two to having over 200 employees, and providing a working environment like no other. One of our proudest achievements is that people love to work here, which is a reward in itself, but this recognition offers the opportunity to spread the message about the difference that a great working environment can have on your team.
Last night a group of UKFasters attended the Business Masters Awards 2016 at the beautiful Midland Hotel in Manchester. It was an incredible night and, as one of the North West's biggest business awards, the competition was fierce. We'd like to take the opportunity to again thank our hosts, TheBusinessDesk.com!
Ultimately though, this award represents all the hard work that goes into making UKFast the place that it is today. It's easy for employers to sit back and assume that people should be grateful just to have a job – many wouldn't even contemplate having Beer Fridays, trips abroad, renting out an entire zoo for the day, or building a beach and ice rink in the car park! UKFast is a truly exceptional place to work, and in return, employees are glad to give their all too.
Want to work for us? Take a look at our careers page and see if you could be the next UKFast superstar.