An Ex-STEM-plary Partnership
As you may be aware, today is International Women's Day so we thought this would be a good opportunity to talk about the work we do with one of Manchester's longest-standing girl's schools. Bryn has the story (along with the most acronyms you've ever seen!).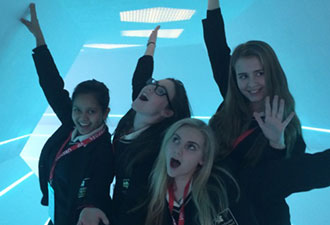 Manchester High School for Girls has been producing some of the best and brightest female talent in the country since 1874. With notable alumni ranging from the Pankhurst sisters to Anushka Asthana, political editor of the Guardian, they're an educational establishment to be reckoned with.
So, if we're going to get more young women involved into tech, then could there be a better place to start?
We've been working with MHSG for some time, engaging the young women there and showing them the world of opportunity that tech can open up. Recently, Arlene from our Training, Education and Development team visited the school to give a series of talks on a range of topics, from how to succeed in business to the gender imbalance in STEM (Science, Tech, Engineering and Maths).
As it's IWD, let's focus on the latter. In one of her talks Arlene showed how the gender imbalance of industries like tech can be seen at every stage of professional development. In school, 45% of IT GCSEs are taken by women yet only 6.5% of computing-related A-levels are. In higher education, although women make up 55% of entrants they only take up 35% of places on STEM courses and 13% for computer sciences.
Given the above, it's not difficult to see how only 16% of the 1.1 million IT specialists in the UK are women.
Despite the fact that more women go into higher education and, in general, perform better academically than their male peers, industries like tech, engineering and science are still missing out on a huge and valuable talent pool. 76% of women achieve A*-C at GCSE as opposed to 69% of boys. Given the current skills shortages in STEM-related professions, is this a talent pool they can afford to go without?
It's something we're trying hard to change at UKFast, but we can't do it alone. It's why we partner with amazing institutions like Manchester High – a school that has been inspiring women for decades.
We asked Pamela Wood, Development and Marketing Director at MHSG (that's the last acronym, I promise), how important the link between businesses and education is for students.
She said: "As a school we are committed to ensuring that our girls are aware of all the options open to them. We are proud of our strong history of former pupils that are leading the way in STEM related careers, such as Kotska Wallace, Principal Engineer at the European Space Agency and Nicola Mendelsohn, Vice-President of Facebook EMEA, but we know we can do more.
"Our partnership with UKFast is a vital component in opening the eyes of our girls, and indeed their parents, to the opportunities that a STEM career could provide. The sessions that Arlene and Aaron have delivered have got them thinking not only about the type of career that they want to pursue but also the kind of company they want to work for. I'm pretty sure that UKFast will be receiving plenty of job applications in the future from Manchester High girls!"
We're always looking for ways to get involved with education, and getting more women involved in tech is going to be a key focus for the industry. With that in mind, we're very excited to soon be welcoming two more MHSG (ok, that's the last one) students to UKFast Campus as part of our work experience programme. They're not the first group to come to us from the school and we know they won't be the last.
To find out more about what UKFast is doing to help future-proof the digital economy, visit our website.