Feeling Flush: Better Bathrooms' Top Tips
At UKFast we love nothing more than hearing how our clients' are getting on, so recently we paid a visit to the Better Bathrooms showroom to see and hear what one of our fast-growing, award-winning clients is getting up to.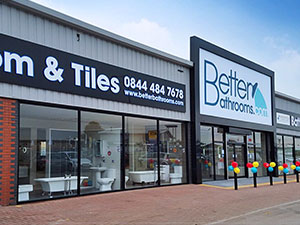 In the 12 years since beginning as a bedroom startup, Better Bathrooms has been on an incredible journey. The now multi-million pound business operates in 11 stores across the UK as well as cultivating an extraordinary online presence – but how do they do it? Harriet caught up with the firm's IT Manager Pete Robertshaw to find out.
There's no I in team, other than investment!
"Colin's (Stevens, founder of Better Bathrooms) invested a lot in leadership training for our employees. From people coming over from Walt Disney to train us, to offsite excursions; it's been really interesting and we've learnt a lot.  And this investment really pays off – you get employees that want to stay and it's why we've gone on to win awards in employee engagement."
"As the website is such a prominent sales channel for us it is important to have a reliable hosting provider. Before hosting with UKFast we experienced downtime, which for an eCommerce business is detrimental. We now have faster web speeds, a reliable solution, brilliant support and the added value of Magento expertise."
"We are an award winning company, 28 so far; the latest one we've just won is employer of the year at the National Business Awards which is a massive achievement for us. We were up against some big companies, and it followed on from Colin winning the entrepreneur award and the National Business Awards back in 2012. The strength in our mix of online and offline presence reflects in the types of awards we're winning and Colin's a big driver of that."
"I think the structure of the company has been a key contributor to our success. Our CEO Colin has direct contact with departments further down the company, particularly the IT department, meaning decisions get made very quickly. This is one of the reasons our website has been so successful."
"We pick and work with great partners who provide us with the tools and technology to keep the website evolving and ahead of the competition. Our Magento partner helped us successfully re-platform our website and our hosting partner has helped us manage a huge amount of traffic. The website is a major driver of the business, it performs incredibly well from a sales perspective and that is essentially the lifeblood of what we do."
What does this all add up to?
Pete sums it up: "I think from a general business perspective the reason we've been so successful is because we buy the products really well and so we are able to offer really great prices. When you combine that with the attitude of our employees and the way they can sell the products it's a winning formula."
Read more about how hosting with UKFast has helped Better Bathrooms in the full client story.