In the Running
At UKFast we're pretty mad-keen runners. Well, not me, but pretty much the entirety of the rest of the company is. We have daily running clubs and many people – including our MD Jonathan and Director of training and education Aaron – literally run around the office. So it's a pretty big honour for us to sponsor the We Love MCR and City of Salford 10K races this year! To celebrate we invited a whole host of VIPs to the UKFast campus to help spread the joy of running!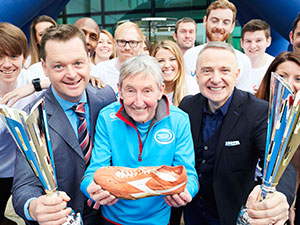 We recently welcomed running enthusiasts to UKFast Campus for the launch of our sponsorship of the We Love Mcr 10K (10th July) and the Salford 10K (4th September)! Amongst them was the legendary and most decorated long distance runner Dr Ron Hill MBE, a human who has run – if I had a drum I would roll it here – every day for 51 years. While he was here Ron answered some questions on his life and how to prepare for the 10K!
It was a great afternoon, and we were also joined by Manchester Mayor Councillor Paul Murphy MBE and Salford Ceremonial Mayor Councillor Peter Dobbs as well as other special guests, and the UKFast running club turned up in force!
Fitness and the wellbeing of employees is at the heart of UKFast and something that our CEO Lawrence has always been a big believer in – healthy body, healthy mind. This is reflected in our on-site gym, our daily classes run by members of staff and the team-building trips up Snowdon!
He said: "It's my mission to make Manchester the number one tech city in the UK and we can't do that with everyone sat behind computers. We need to inspire people to get up from their desks and get their heart rates pumping. We want to get Manchester and Salford bouncing with energy.
"The link between business and sport is incredibly strong in terms of focus and goal setting. Keeping fit and healthy is essential for maintaining focus and some of the most successful people I know are some of the fittest."
Watch the video of the launch for insights from Lawrence and Ron!