A Tech Nation?
The Tech Nation 2016 report has been released and it looks like although digital skills are growing, digital entrepreneurs are having trouble filling roles. So, where are the skills coming from, how can we continue to grow them, and how can you ensure you're taking advantage of all of the things? We've got the scoop…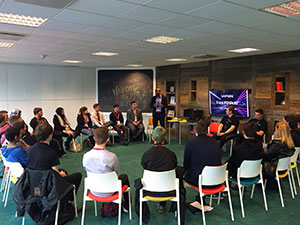 Unsurprisingly, digital skills are in huge demand and that demand is growing. Over 1 million digital jobs were posted online in the first nine months of 2015 alone and, if you want to survive in the current climate, chances are you'll need at least a few mad digital strings to your bow. Even more interesting, the average wage for these jobs was around £50,000, which is 36% over the national average; not a bad area to work in, by the looks of things.
The sector also has huge backing from the government, as it shifts to focus on the digital arena. In the foreword of the report, David Cameron said: "Tech is truly transforming the way we do all kinds of business, right across the country. We will continue to back, with all levers at our disposal, the innovation, creativity and entrepreneurship that is redefining and strengthening the modern British economy." Again, suggests it's the place to be right now.
But, despite the industry pretty much being rolled in glitter and shot out of a cannon, tech entrepreneurs are saying that they're still having trouble filling jobs, and universities seem to be lagging as providers of software development activities.
"Digital businesses make considerable use of local universities to recruit talent, but entrepreneurs say graduates sometimes lack either the business skills, or the most up-to-date technical skills, needed to go straight into work," the report said. These may well be things best developed on the job instead, and the report found that in-house training was the most common source of skills development.
To maximise this opportunity and help plug the skills gap, the report recommended a focus on connecting young people with the industry and expanding the variety of apprenticeships available, which are a great way of getting focussed, in-house training.
At UKFast our training and education team ensure that we're all staying up to speed with skills and providing our clients with the best service we can, and – following the success of our award-winning apprenticeship scheme – apprenticeships will also be a big focus for the company in the years ahead.
Just today we've started welcoming apprentices from Bright Future, and it's pretty exciting seeing all the new faces around the office! If you're a business there couldn't be a better time to think about taking on apprentices, and if you're looking for an area to get skilled-up and earn while you learn, then you just got hit with the lucky stick my friend.
Find out if an apprenticeship at UKFast could be for you. Take a look at our training and education page for more information.