Careering into the Future
It's been one hell of a month for apprenticeships in Manchester. Bryn has the rundown, brace yourselves. 
We had the Bright Future closure, leaving 180 apprentices out of work, so we teamed up with leading Manchester businesses and held an open day to help them get their futures back on track. The week before, our Training and Education team went down to the 'big smoke' for the National Apprentice Awards and we were proud to be named a Top 100 Apprentice Employer for the second year in a row.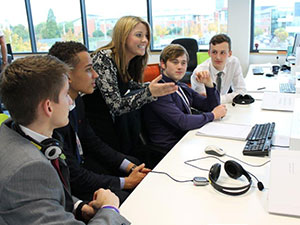 Two days later, the National Apprenticeship Employer Engagement Conference took place right here at UKFast Campus and over a hundred business leaders turned up to find out what apprenticeships will do for their businesses. Added to that we've got a Young Apprentice Ambassador's Network event coming up on the 25th of Feb and just over a month to go before National Apprenticeship Week.
Aaaaand relax. With all that going on, maybe it's time to step back, take a deep breath, and have a think about the role apprenticeships play for businesses and the economy as a whole.
At the Apprenticeship Conference earlier this month Tim, one of our very own apprentices, took to the stage to speak about his experience at UKFast. He told us how, when he left school, he was looking for a "career not a job".
We're hearing a lot at the moment about falling unemployment. But what does this actually boil down to? More zero-hour contracts, more people holding down two or more occupations? Perhaps more people are in work now than were five years ago, but are they in careers or just jobs?
One of the speakers at the conference was former Apprentice contestant Neil Clough (and I'm talking about the TV show this time). He runs a recruitment company called Prime, and highlighted how so many great candidates fall down "due to lack of relevant experience". If, like me, you went to university, this is probably not the first time that you've read that, am I right?
For the new generation, having a mixture of skills, education and experience is the key to not falling into this trap. That's why Tim decided on an apprenticeship instead of a going to university or going out and getting any ol' job.
Yes, you could go to university, rack up thirty grand's worth of debt and work for free during the summer to get experience. But for those of us who don't have the means to pay for it, or who just don't want that amount of debt hanging over our heads, there has to be another option. As Lawrence Jones MBE explained at the conference, in the past young people have gone down the wrong route because there wasn't any other option. But now, thankfully there is.
And it's not just the apprentices who benefit either. Leanne Holmes, operations manager at CPI, told the conference how she decided to start an apprentice academy. Her industry, manufacturing, is suffering a massive skills gap (something we can relate to in tech). Leanne saw that the only way to counter an ageing workforce was to start giving young people the skills that manufacturing is crying out for.
Equally, apprenticeships are a pretty solid investment from a financial point of view. And, let's face it, money don't grow on trees. Karen Woodward of the Skills funding Agency explained at the conference how, with the new apprenticeship levy coming in 2017, companies with apprenticeship programmes aren't going to feel the pinch when the tax return comes in. Added to that, she said that for every £1 invested in apprenticeships, £25 is put back into the economy. So taking on a few youngsters should more than pay for itself.
Whatever your industry, skills are going to be pretty high on the agenda for the foreseeable future. For businesses and young people alike, apprenticeships are the key to bridging the skills gap and future-proofing the UK economy.
To find out more about the UKFast Apprenticeship Scheme visit our website.