The X(X) Factor
From Marie Curie to Director-General of the World Health Organisation Margaret Chan, women have been doing ground-breaking, live-saving work in STEM industries for flippin' years. But, for many of the women who've done pioneering work in the field, their recognition tends to come posthumously – like polymath Mary Somerville, the woman who predicted the existence of Neptune and will now appear on the new RBS £10 note – or not at all! Today is the first International Day of Women and Girls in Science, and is a great opportunity to shout about all the incredible STEM ladies out there!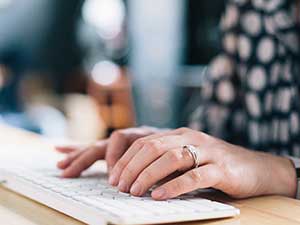 So, the stats don't lie, the current climate could be better in terms of the numbers of women in tech. Figures still show that men are dominating the field, and even around these parts, one in five northern tech companies surveyed by Manchester Digital don't currently employee any women at all.
But, for all the doom and gloom, there are already many legends of STEM out there getting recognition for the great work they've done. For example, a host of STEM-savvy women have won Nobel Prizes over the years, and women are actually outperforming men in some areas too.
A study by North Carolina State University and Cal Poly looked at code committed by more than 1.4 million GitHub users and their contributions to various open-source projects on the source-code repository service. They found that women were actually more likely to have their open source software contributions accepted, but only if they hid their gender. One theory for this result is that because, historically, it's tougher for women in the field; so the ones who do enter STEM industries have often acquired higher levels of training and experience as a survival mechanism
So clearly, the need is there and women are more than capable of rising to the challenge, so how can we help get more women involved in these areas? Well, this is something you can help with. Getting your children – especially if they are girls – involved in things like Code Club can be a good way to kick-start their love of tech. At UKFast we do lots of work with local schools to encourage both boys and girls in their tech passions. Schools are also increasingly using Raspberry Pis or the BBC's Micro:bit as part of teaching, and that's great too.
Changing the perception of STEM as a female-free zone is slowly happening, but it's something we all need to get involved in. There's no shortage of incredible women in STEM to be used as role models – we just need to start shouting about them a bit more!
Who are your #WomeninSTEM heroines?
If you're looking for a career in tech we're currently looking for the next UKFast superstars. Take a look at our careers page!