Going for Gold
They say that what you do to others will come back to you. Often – in a less charitable yet more hilarious sense – this will be in the form of instant karma. But, in a more professional/less terrible person way, it's also true of business – if you treat staff well and invest in their development, the business will thrive.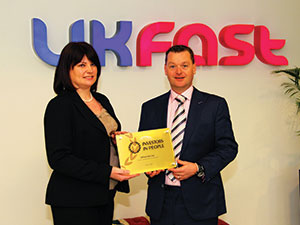 As you may well know, at UKFast we invest heavily in our team which means that in turn, they are better qualified, happier, and give their all to our customers. We've just upped the ante in our focus on people development, having been awarded gold accreditation against the Investors in People Standard. Here's what that means…
Joining the top 7% of accredited organisations across the UK, we're thrilled to announce that we have been awarded the gold-standard accreditation by Investors in People, the international standard for people management!
There are several key ways that our CEO Lawrence invests in his team – starting with a £4.5m investment in training and education. This is immediately evident the second a new starter walks through the door at their induction and continues throughout their time here – in our Monday Morning Meetings there's always a raft of congratulations for the latest exams passed and qualifications undertaken. If you want to develop here, you will.
This focus on development, and the support and opportunities available for gaining qualifications, means that our team members are always pushing themselves to undertake new challenges, and we are proud to have the fastest-growing LPIC-qualified team in the country, so you know you're getting the best level of service. This service is reflected in our NPS customer feedback score, which is currently nine times the national average; hard proof that happier staff means happier customers.
Transparency and clearly communicating values and plans for growth were also hugely valued in the completed questionnaires. Our Monday Morning Meeting is part of this, where we gather each week to talk about big plans for the week ahead, longer term goals, welcome new starters and give shout-outs to the previous week's superstars.
At UKFast we're always innovating – one of Lawrence's favourite sayings is that we may not be market leaders but we'll always lead the market. This means that our engineers have the opportunity to work on development projects of their own, and we are proud to be able to offer customers a growing list of UKFast products, including our eCloud range and Webcelerator technology.
Everything you do as a business stems from the people within it. So, if you're looking for easy ways to boost your business, your employees are a pretty cracking place to start because it's true, investing in people pays off!
If you want to become one of the people we're investing in, take a look at our careers page!