Standing Out in the Digital Landscape
According to a recent round table involving some of Manchester's top technology experts now is the time to create, develop and reinvent; and most importantly, take advantage of the trailblazing technology out there at the moment. The lovely Lowri has the lowdown!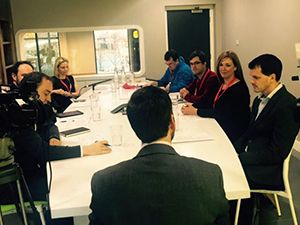 Discussing what tech was used well in 2015 and what we should all be making the most of in 2016, our round table experts offered advice for SMEs and first-time entrepreneurs on how technology can help you become versatile and agile in this increasingly competitive digital landscape.
Matt Hunt, CEO of Apadmi Enterprise, noticed how easy it is to set up your own business nowadays. He said: "The one thing that I really noticed last year was how good some of the tools and platforms out there are for small businesses, and how easy it is to build your own business online from scratch.
"You can be up and running and trading in no time at all, and the cost is so low. SMEs need to realise what's out there for them and really take advantage of it all. When you use tech to create your own business it's amazing how lightweight you can be. You just need a little bit of knowledge and the right tools; everything that's needed is already out there at the moment."
Jodi Birkett, partner in Deloitte's North West Transaction Services team, agreed with Matt but urged SMEs to act fast. She said: "Once the barriers to entry come down, which they are doing, it makes it an incredibly competitive landscape. You have to act fast, and take advantage of the incredible technology that's out there at the moment."
Research from Buzzboard found a large number of SMEs in 2015 were still not capitalising on technology, with over 70 per cent admitting to not being ready to handle online consumers. Getting on board with the digital revolution is key and, once you're up and running, Tom Cheesewright, futurist and founder of Book of the Future, advises SMEs to use technology to reinvent your business and stay current.
He said: "The lifecycle for innovation is short. You not only need to think about how you are going to optimise the current technology, but also how you are going to reinvent your business year-on-year."
Elizabeth Clark, CEO of technology firm Agility, agreed with Tom and believes SMES must capitalise on change and respond quickly to challenges. "If you don't think you've got a long lifespan you've got to get out and keep it current. Realise what works well in your business, know where the value is and think about how technology can do to help you make use of this. Reinvent and keep things current."
Keep your eyes peeled for more insightful information from our tech experts on our video channel!