Flex Some Serious Muscle with the New eCloud
There is no better moment than when two great things come together to make something even better. Chips and vinegar (or gravy, if you're reading this in the North). All four Power Rangers. eCloud and OpenStack. That's right – there is now an eCloud platform that's kicking goals and fighting crime (as long as that crime is having a slow application dev platform). It's the all-singing, all-dancing secure, scalable and efficient answer to anyone who's wondering whether cloud is for them. Here's how it can help you grow your online presence.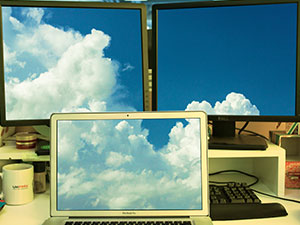 Responding to a growing demand for agility in the cloud, eCloud Flex is the newest and most scalable member of the eCloud dream team, bringing together enterprise-level hardware and the open source capabilities of the OpenStack software.
This superhot mix of the two gives you more control – you can deploy your own cloud-based applications in minutes, you aren't locked into long-term vendor contracts and, as you only pay for the resources you use it's a great way to dip your toes into the cloud environment.
Using eCloud Flex, developers can do jazzy things like programmatically build and spin up anything from individual VMs to entire virtualised hosting platforms with the provided open APIs, and it gives you the freedom to try new things; for example, getting involved with big data – you can burst out your solution to crunch huge amounts of data then just scale on back down again when you're done.
Data privacy is also a hot topic at the moment following the recent Safe Harbour ruckus. With eCloud Flex (and the other eCloud offerings) you can rest assured that your data is on British soil, snug as a bug in a rug, in our UK-based, wholly owned data centres.
One company that's already a Flex convert is the team making science relatable, The Naked Scientists. Because of its popular podcast, the team regularly experiences huge peaks in traffic.
Dr Chris Smith, creator and co-presenter, says: "The content we are producing is in demand and with eCloud Flex we're able to satisfy that demand. On days that the programme is published, traffic hits 500Mbit/s a second. With this solution in place it means our listeners aren't punished by slow download speeds or streams disconnecting because they can't access the content."
No matter what industry you're in, a need for speed, scalability and ease of use will be something you can relate to, and something you need to ensure you're nailing.
Give eCloud Flex a go today – listen to our webinar for more information or take a look at our website to sign up now!