A Brighter Future
Yesterday UKFast opened its doors to a whopping 120 apprentices – it was an incredible day and we hope that they enjoyed it as much as we did! Our Apprenticeship Scheme has always been something we're hugely proud of, and we believe in creating opportunities for those that want to progress. If you currently have no idea what I'm rambling about, read on, it's all about to become clear. Probably.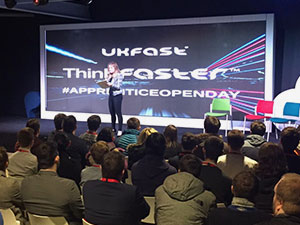 When our CEO Lawrence heard about the Bright Future collapse earlier this week – and the apprentices left stranded – never one to mess about, he decided to put on an event straight away to help the young people whose path had been suddenly cut short through no fault of their own.
Everyone pitched in and the team did an incredible job of organising a great day of talks, workshops and advice. Lawrence gave a talk on the fact that even though something really hard has happened, it's important to see it as an opportunity. This might sound like the kind of self-help stuff you have to tell yourself when you're in a bad place otherwise you'll resort to binge-watching Dawson's Creek and screaming into a pillow, but it's true.
Scott Fletcher of ANS also spoke about his experience as a young apprentice when the company he worked for went bust. He's now the CEO of a massive company which is a great working example of Lawrence's point. You can hear more of Lawrence's thoughts on the day in his blog.
We also had a couple of special guests – both from expert training providers, to hook the young people up direct to the source, and from a galaxy far away. Because Darth Vader needs apprentices too.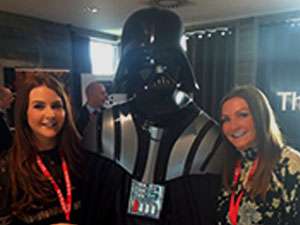 We'll call all of the apprentices that came to our offices yesterday before next Wednesday about opportunities and how to move forward. It was incredible to see the Manchester community come together to support the apprentices – thanks to everyone who helped out and attended!
To find out more about the UKFast education department and Apprenticeship Scheme take a look at our training and education web page.