Mastering Employee Engagement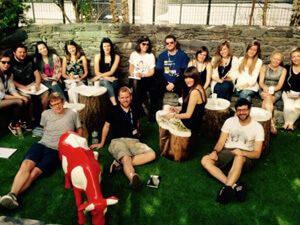 We're incredibly passionate about providing great service for our clients, helping the UK tech community to grow and  staying at the forefront of innovation. Whilst that might sound like marketing spiel, it's true!
So, we were really excited to find out yesterday that UKFast has been selected as a finalist for the North West Business Masters Awards 2016. We're incredibly proud to be on the list among some prestigious business names. It's a testament to everything Lawrence, Gail and the team have built over the last sixteen years!
The award is broken down into 'Fast Growth Business' and 'Employer of the Year' and looking back at how the business has grown, it's incredible to see what you can achieve when you set a goal for yourself – a mantra which Lawrence lives his life by.
Back when Lawrence and Gail were running UKFast out of their back bedroom and living off baked beans, it might've been hard to imagine they would one day have the business they have now, much less get industry recognition for it!
Now, the custom-built, wholly-owned data centres, an in-house education department, and constant R&D innovation are just a few of the things that set us apart.
Arguably though, the key thing – and what Lawrence particularly prides himself on – are the people behind the scenes, powering UKFast. This is what's earned him a nomination for Employer of Year and what makes his team go the extra mile to make the business what it is.
Hiring like-minded people has created a culture at UKFast that is rarely seen elsewhere. This definitely sounds like I've just drunk the kool-aid but hey don't take my word for it – people who leave the business often return, and it's repeated time and time again when people talk about UKFast.
A huge part of creating and keeping this culture is our fantastic in-house training and education team – they look after us from our induction right through to any additional training we want as we progress, and they make sure that we're always growing our skills.
Employee engagement is another hot word around here, and there are lots of things that happen here that you just wouldn't get anywhere else – incredible trips to the zoo, a beach in the car park in the summer (which transformed into an ice rink in time for Christmas!), and skiing trips as employee rewards ensuring that the team feels valued. These are just a few of the things that we believe have lead to our selection as a finalist. Whatever happens on 10th March, we will continue to strive to keep our team, and our clients, happy!
If you fancy joining a team that prides itself on doing something a bit different then get in touch – we're always looking out for the next UKFast superstar.