Open the Door to a Better Future
When many of us were in school the only options for the future seemed to be university or finding a job. The first was dead expensive and the second could be a struggle without the skills learnt on a course. Now though, apprenticeships are being recognised as an incredible opportunity to learn while you earn.
This Wednesday we've got a special apprenticeship open day in the wake of the Bright Futures situation – here's why you should get involved.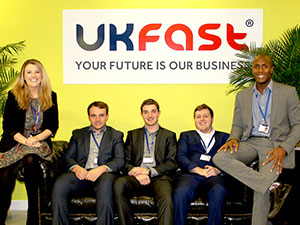 If you haven't heard what's been happening, Media City-based company Bright Futures has told workers not to come into work for the moment due to cash flow problems – the majority of these workers are young apprentices, part-way through their qualifications. Our CEO Lawrence has responded by doubling our annual target of apprentices and putting on an apprenticeship careers event at UKFast Campus on Wednesday to help the workers of the future to find their next steps.
The #ApprenticeOpenDay will give apprentices the opportunity to do psychometric tests to discover their passions and discuss their potential next steps. Lawrence is set to speak alongside Scott Fletcher of ANS, there'll be skills workshops going on and plenty of opportunity to meet Manchester's business community too.
If you're thinking of becoming an apprentice, have been affected by the situation or are a business that wants to get involved, it's going to be an incredible day. Just drop us a tweet or comment to register your place.
Lawrence said: "We've created an open door policy for these young people who've found themselves left high and dry. We can't have these kids who have been courageous enough to become apprentices being thrown out on the street."
Apprenticeships are something that's actually been high on our agenda for a while. Last Thursday we were honoured to have many incredible people gather at UKFast Campus for our Apprenticeship Employee Engagement event and inspirational figures discussing why apprenticeships are the way forward.
Karen Woodward of the Skills Funding Agency, Neil Clough of Prime, Theresa Grant from Trafford Council and Leanne Holmes from CPI Crane all joined a panel, along with apprentices and skills providers to share the best practice for creating and developing apprenticeships that build amazing young people with the skills they need to succeed. It was an extraordinary event and there'll be more content and videos coming from it soon.
Apprenticeships offer an incredible path for many people, and can have massive benefits for businesses too.
If you're interested in attending Wednesday's event drop us a tweet @UKFast to find out more!