What CES and UKFast Have in Common
The annual tech smorgasbord CES kicked off yesterday and it looks like 2016 is shaping up to be a blinder for the industry! The show boasts '50 football fields-worth of innovation' and is a hotbed for the up-and-comers in the tech world. While the parallel between a huge tech show in Vegas and a web hosting biz in Manchester may not be immediately obvious (mostly because of the rain, probably), we may have more in common this month than you think!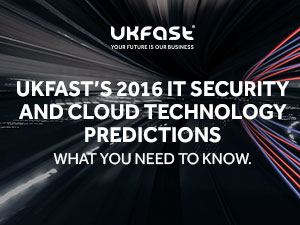 So, tech enthusiasts are living it up in Vegas for a few days and all the crazy gadgets coming out of the show are hitting the headlines. There are a few themes emerging in areas that are already well established too; for example, drones have been taken to the next level with the unveiling of the first one able to  transport humans; the IoT is repping with a smart fridge that lets users control the temperature of different shelves; and virtual reality has been making waves, with the final version of the Oculus' virtual reality Rift headset seeing queues around the corner.
The show runs until the 9th and there will likely be a whole host of other weird and wonderful things coming out of it so keep your eyes on the web for more trends and gadgets.
Events like CES are important because everyone wants to be ahead of the curve when it comes to tech, and getting in early on the right tech can set you apart.
For something a little closer to home, we're hosting a webinar on predictions in IT security and cloud for the year ahead for those that want to get ahead in business. It may not be in the bright lights of Vegas but you can tune in from your office or sofa and put a bright lamp on – arguably, even better than CES. These are two topics that you need to know about for 2016; come and join us to find out more!
Webinar time/date: 13 January 2016, 2pm GMT
Speaker: Jonathan Bowers, MD at UKFast
Moderator: Lev Cribb, Head of Marketing, Enterprise at UKFast
Register for the webinar today! 
PS: We'd also love to hear your own predictions are for the year ahead! Take our survey and let us know what you think!