2016 Predictions for IT Security and Cloud Technology
They say that forewarned is forearmed. So, while many of you are probably reflecting on the year that's just gone – and we hope it was an absolute blinder! – it never hurts to look to the future; especially when it comes to staying ahead of the curve with upcoming IT innovations, and when protecting yourself too. With that in mind we'd like to invite you to our webinar, which will outline what the experts think are the top five predictions for the year ahead! Mystic Meg has nothing on us!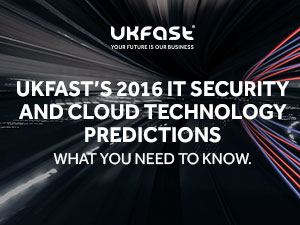 The webinar will be going down on 13th January at 2pm and will be choc-full of information on the things that we think will be making an impact over the next year. As a business – and as a user – it's important to know which trends to keep an eye on, which will be the big hitters and where you can get in early!
You also don't need to be psychic to know that security already is a huge deal, and will be even more so next year. A proactive approach is now crucial to protect yourself, your business and your customers (!), so it's important to know where (and against what) you should be looking to bolster your defences! Did we just give away a prediction there? Maybe a little bit…
So, sign on up to our webinar – you don't even have to leave your chair, much less your office, to hear from the experts! Keeping your finger on the pulse will set you apart, and it could not be easier if we actually came to your house and sang the predictions to you. Plus we know you'll need something to brighten up the dreary January days, so make sure you don't miss out! Here are all the details – get registerin'!
Webinar time/date: 13 January 2016, 2pm GMT
Speaker: Jonathan Bowers, MD at UKFast
Moderator: Lev Cribb, Head of Marketing, Enterprise at UKFast
Register for the webinar today! 
PS: We'd also love to hear your own predictions are for the year ahead! Take our survey and let us know what you think!