What Price Should you be Paying for Security?
It's no secret that a security breach will cost you. Whether it's the cost of the data loss itself, a fine for not protecting your systems, or the lost business when your reputation is dragged through the mud, it's a hefty price to pay. New information suggests that some top firms are now paying tens of thousands of pounds for cyber security experts to protect them from these losses (which is more than a little ironic at that price), but is it worth it? The short answer is yes, and no.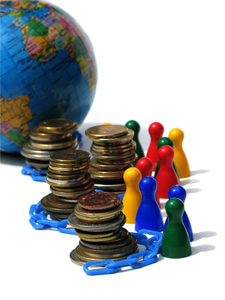 Recruitment firm Manpower has found that some of the top dog security experts are billing companies up to £10,000 a day to help them protect their systems, and that less experienced experts are still charging a whopping £3,000 a day.
Manpower also reckons that prices will continue to rise as more companies see the need to take on security experts, especially as there's currently a worldwide shortage of workers skilled in the area. The company said that from its own client base, the number of employers looking for experts has quadrupled this year.
Mark Cahill, the firm's UK managing director, said: "There are millions of cyber-attacks every day with a total cost to the global economy of up to $575bn (£381bn) a year. Companies are having to invest heavily to protect themselves and they now believe that cyber breaches are inevitable, with their focus moving to responding to attacks rather than just prevention.
"Some individuals can command daily rates in excess of £3,000, and some top cybersecurity specialists can even earn five-figure sums daily. With the potential risk to companies so significant and no signs of demand falling, those sky-high salaries look set to continue."
There are probably several reasons as to why these wage packets are so eye-wateringly high. Firstly, yes, attacks are getting increasingly sophisticated and, from TalkTalk to Sony, high-profile attacks are making big businesses realise they're not invincibleand small businesses realise that, even if they think they won't be, they are on the radar for attackers. Finally, and the thing that can potentially save you some dolla, is that companies are leaving it too late to protect themselves.
Speaking to our security arm Secarma, they reckon that it's an issue of supply and demand. Figures show that most companies now expect to be hacked but many are still just waiting for it to happen rather than taking steps to protect themselves. Then, when they can't avoid it any longer they're forced to pay whatever experts ask.  Security now needs to be built into a business from the ground up; if it's an add-on, you're going to end up hacked, or paying through the nose.
Educating yourself and your team on the importance of cyber security, carrying out regular penetration tests and making sure that you have solid security built into your hosting solution may not replace the need for a security expert – depending on your business – but will give you a good base to build on, and hopefully mean that you don't get taken to the cleaners when things start to get a bit messy.
Take a look at our security solutions web page for more information on how we can help protect your business, or give us a call on 0208 045 4945.