An Incredible Night
by Katherine Kelly
Last night a host of digital genii came together in a big glitter cannon of talent and er, actual glitter to celebrate the cream of the digital crop. UKFast was proud to once again offer its service as headline sponsor for the Digital Entrepreneur Awards; there's never been a better time to honour the leading lights of the digital world – but of course, this isn't the end of the road…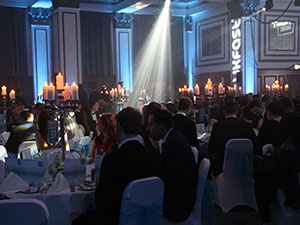 First up, we want to say thank you to all the incredible speakers and attendees who joined us and the DEA team at the Palace Hotel in Manchester last night. Although entrepreneurs don't do what they do for recognition, it's still important to take time out to shine a light on talent – and more importantly, hard work – and give praise where praise is due.
Events like the DEAs are incredible opportunities to get together and meet other like-minded people who are pushing the industry forward. While there could only be one winner in each category everyone was there for a reason, and everyone there had the same goal – to make the industry the best that it can be and continue to push and innovate in all areas.
Our keynote speaker, Claire Braithwaite of Tech North, summed this up perfectly, talking about the myriad reasons to be celebrating the entrepreneurs of the digital world in her speech.
"Entrepreneurs are a special breed. They are creators; of prosperity, of opportunity, of jobs, new industries and paradigms. It's people who lie at the heart of innovation. As Vivek Wadwa noted recently: 'It wasn't academia, industry or military research that created Silicon Valley: it was people & collaboration'."
Congratulations to all winners from last night, we hope everyone's not too tuckered out from the evening's festivities – the digital world has come a long way but there's no time like the present to make it even better!
Here's a final quote from Claire which kinda sums it all up really, and is a big shout out to all entrepreneurs out there: "In a world of pessimism, naysayers and doomsday portent, I unashamedly put my lot in with those entrepreneurs who say 'we can change the world' and are prepared to give their everything to make it happen." We hope that you do too!
To find out more about the events UKFast is involved in take a look at our events page.