Joining the Club
Last Wednesday we held a very special coding club at UKFast Campus. This week was the first of our clubs to be held since we became an official registered member of the Code Club family – one of the first businesses in the country to do so. To celebrate this, we spoke to Liz Smart from Code Club North West about the role the club plays in influencing change.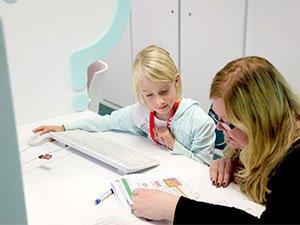 Whilst Liz was here, she made a very interesting point about why it's so important to get kids into coding at such a young age.
She said: "One of the best things about teaching children to code is that it takes people who would otherwise never take an interest in IT and develops a passion for digital and technology in them."
This is particularly true for women. A Gartner study in 2014 showed that women are still massively underrepresented in the top echelons of tech. The study discovered that only 14% of CIOs in the UK were female; representing absolutely zero improvement over the last 10 years. That's right, nadda!
Is this because women are being prevented from reaching those high positions, or are there just not enough women in tech in the first place? There is certainly a problem with preconceptions when it comes to the tech industry. By the time women are starting to make decisions – choosing GCSEs, apprenticeships or what to study at university – they've already been conditioned to think that tech and IT isn't for them.  As Liz rightly said, the way to change this is to get girls inspired by technology before these preconceptions kick in.
Our code clubs are living, breathing, ridiculously fun proof of this. We've actually seen a larger turnout of girls than boys on more than one occasion. It's proof that women are not naturally put off by IT; the problem is societal. If we're going to achieve more balance and get more women into the tech industry, top down change just isn't going to cut it. It needs to come from the ground up; developing a passion for IT in children so that women see a digital career as genuine option for them.
This potential to influence huge change is why we value our coding clubs so much and it's why we are so very proud to be an official member of the Code Club community.
To find out more about training and education at UKFast take a look at our website.