Double your Magento Store's Online Revenue
Black Friday and Cyber Monday are a godsend for those that can harness their power, and a destroyer of hopes for those woefully unprepared. Lucky for your Magento-ers out there, we've got an expert a-comin' to offer insights on how to boost your store's online revenue, all from the comfort of your own computer screen.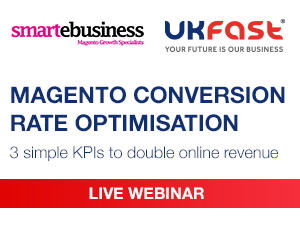 That's right, on Nov 18th Ian Hammersley, CEO of Smartebusiness, a Magento agency and expert in all things Magento, will be sharing his advice on how to boost your Magento store's online revenue. Smartebusiness also run the Manchester Magento Meetup events, as if they needed any more credentials!
The talk will focus around the following critical areas:
The 3 most critical stats that guarantee to improve revenue on Magento
The 'when and what' of Magento functionality to invest in for the biggest revenue gains
The times when you shouldn't spend any money on your Magento store
The secret 'hidden gems' of information that exist on ALL Magento sites but no one knows about
How Magento's full feature list could be your downfall
Basically, it should cover everything you need to know. As usual, our webinars are live and interactive and we'll have a live Q&A session at the end of the presentation to answer any of your burning questions.
So, important info:
Date: 18 November 2015
Time: 3pm
Duration: 45 minutes plus Q&A
Don't miss out; this is an easy and convenient way of getting expert insight into an area which – at this time of year – is more important than ever.
Book your place now to avoid disappointment!