Spacebook
Facebook loves an idea that's a bit out there – and this one is so out there it's not even on this planet. Bryn has the lowdown.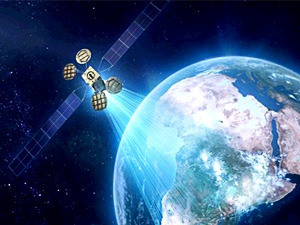 Facebook has announced a $500 million plan to launch a satellite, as if a Facebook drone wasn't enough (next we'll be hearing that they're re-branding as Spectre).
The social-media giant has teamed up with French satellite provider Eutelsat Communications for the project that's intended to beam free internet down to several sub-Saharan countries to bring web access to developing nations.
In a Facebook post, Zuckerburg said: "Over the last year Facebook has been exploring [new] ways to use aircraft and satellites to beam Internet access down into communities from the sky."
Though the concept of satellite internet is not a new one, current examples are very expensive and far beyond the means of the people Facebook is looking to reach. The satellite would allow the internet to reach inhabitants of some of the remotest places on earth – places that don't have the infrastructure to provide internet via more traditional methods. For these people it could mean accessing education, broadening horizons and connecting with the rest of the world.
But, hold on a minute; it's not all gravy. Several companies have hit out at the idea, pointing out its limitations and the impact it might have on other providers. The satellite is part of Facebook's Internet.org initiative which has been criticised for net neutrality issues. Companies in India have also pulled out of the scheme because it only allows access to certain applications, meaning sites that are not included get brushed aside.
There are also some fairly massive limitations to what Internet.org will let you use the internet for. First of all, there's no encryption, which means sites that support HTTPS are out on their ear.  Sites need to be data-light. Videos, high-res images and voice and video chat are also on the banned list. Lastly, websites have to able to run on cheap, as well as powerful, smartphones. So anyone using JavaScript, HTTPS or Flash files will be shown the door.
To recap: yes, free internet is pretty awesome. And yes, providing access to the wealth of knowledge and opportunities that the internet offers to some of the world's poorest people is a brilliant idea. But, as it stands, Zuckerberg isn't even close to giving them the online experience that you or I get. Equally, could Internet.org, satellites and drones be the first step to a Facebook monopoly over the internet in the third world?
Image: BBC News