Why Manchester is Great for Startups
Starting a startup can be daunting but in the right environment you can set your sights on success! Manchester has long been known as the home of good music, good football and er…well, chips and gravy. But now companies are starting to recognise it as a hive of activity for startups.
In today's blog, Vimla Appadoo, program manager at Dotforge Impact – a pre-seed startup accelerator that supports talented entrepreneurs to build visionary companies – tells us why Manchester is a top technology hub for startup growth.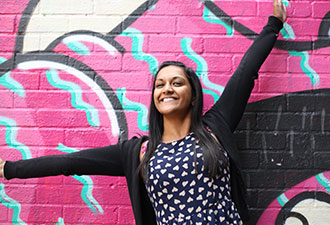 I'm a huge advocate of Manchester. It's an amazing city full of wonders, great people and fun. But, there's so much more to this great city of ours. It's also a hotspot for tech startups (and I know I'm not the only one who thinks so). All you have to do is head to a networking event and you'll hear everything you need to know about how Manchester is an incredible city to start your business.
However, if you don't have the time to get down to a networking event (because you're busy getting your tech startup off the ground, of course), here are four ways Manchester can help:
Access to Talent
First off, Manchester has four major universities at its fingertips. With universities come an extremely talented group of students. That means if you're looking to launch a tech startup in Manchester, there's no short supply of graduates looking to get their foot in the door.
Historically, there's a been a definite brain drain to London; however, with the push that Manchester has had from the government and the emphasis on a Northern Powerhouse, more and more talent will be staying in, not only Manchester, but the North. Plus, with rising prices, London is quickly becoming inaccessible to the majority of students, pushing Manchester up the list of most desirable cities to live.
Support
As mentioned, the Northern Powerhouse is hugely influential to the great things happening in Manchester. This coupled with devolution means that things are on the rise to help tech startups in the city.
Plus, Tech North is in the city and already making huge waves to support tech startups, not only in Manchester but across the north. They are hosting some great events and have just launched North Stars, a tech accelerator to celebrate tech startups in the North of England.
The support networks in Manchester are incredible. The Business Growth Hub and MIDAS are certainly doing their part to help all of the startups out there, and MadLab, SpacePortX and Rise are all hosting events that support the startup community. It's amazing what's out there to help make it easier than ever to get a tech startup off the ground.
Co-Working Space
A great sign that there's a booming tech startup scene in Manchester is the influx of co-working spaces and accelerators. It's a sign of all businesses that are being started here and an indication of the great things that are happening.
SpacePortX is just one of these spaces, with a focus on tech; it's home to tech startups and entrepreneurs. Saying that, you don't have to look too far to find MadLab which has just launched its co-working space on Edge Street, as well as an art and tech accelerator. Furthermore, Rise, Hello Work and The Shed all offer incredible co-working facilities and support the startup community through events, collaborative co-working space and offices.
Collaboration
The co-working spaces are just an introduction to the collaboration that's available for the tech startups in Manchester. Everyone is pushing to make this city a top 5 European startup destination (aka #MCRTop5) and with that, there's a huge support network to help each other out.
The startup community is really open to welcoming new people and entrepreneurs and there are loads of events to help you meet like-minded people. One of the best things about the Manchester tech startup community is how willing everyone is to help each other out, listen to what's going on and support each other's startup journeys. A great starting point for these conversations is Startup Brew, which is every last Wednesday of the month. Couple that with Silicon Drinkabout and you're hitting the ground running to meeting Manchester's tech startup influencers and learning more about what's going on in the city.
There you have it – a quick rundown of why Manchester is a great city for tech startups!
To find out more about the networking opportunities and events being held at UKFast in the heart of Manchester, take a look at our website!