Going (Micro)Soft on Open Source
Microsoft has announced that it'll be throwing down a new Linux distribution for its Azure cloud computing platform. This is pretty big news in kind of a Romeo and Juliet way, minus the bloodbath (literal one at least) and kitsch Baz Luhrman soundtrack. It could also herald a new direction for tech, so prepare for some serious techsplanation below!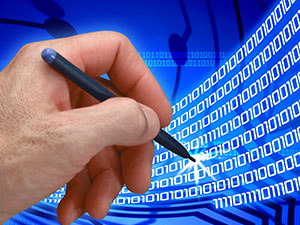 Microsoft's announcement that it's going to start using its own version of Linux to run networking on its Azure cloud platform has set the internet ablaze and tongues a-wagging. If Microsoft is Romeo and Linux is Juliet, then the rest of the community have been poor bystanders getting caught in the crossfire. But if there could be a ceasefire, then we could all benefit from a bit of harmony in Verona.
Historically, Microsoft's relationship with open source Linux (software anyone can see, change and share for free) was notoriously uneasy. Previous CEO Steve Ballmer called Linux a "malignant cancer" – which is up there on the insult list – and even when Bill Gates turned a corner several years ago when he realised that the company would have to embrace open source to remain relevant there were still myriad issues from start to finish.
Now though, the company seems to be seriously exploring uses of the tech. Kamala Sbramaniam, Principal Architect for Azure Networking at Microsoft wrote in Micosoft's blog that: "The Azure Cloud Switch (ACS) is our foray into building our own software for running network devices like switches. It is a cross-platform modular operating system for data center networking built on Linux. ACS allows us to debug, fix, and test software bugs much faster. It also allows us the flexibility to scale down the software and develop features that are required for our data center and our networking needs."
A big corp like Microsoft employing this system could also represent a shift toward SDN (software defined networking). This is – in its most simplified terms – a way of centralising the control of a network to make it more like virtualised compute and storage, and because this makes it less reliant on hardware it has the potential to be more flexible and agile.
This is similar to when the industry moved from purely dedicated hosting to adopting cloud (virtualised) servers alongside it. Virtualisation was a bit of a novelty when it first arrived but as it improved more people adopted it and now it's crazy popular.
If SDN follows suit, there could be less physical kit and it could open the way to more open source alternatives in the SDN market, making way for increased collaboration and innovation!
For more information on the tech behind our solutions take a look at our website or give us a call on 0208 045 4945.