Getting Smarter about Security
The Internet of Things has been heralded as an amazing opportunity, but it's also got a rep for a somewhat lackadaisical attitude to security. Now though, a load of big-hitter tech firms are coming together to help create a smarter attitude toward Smart tech security!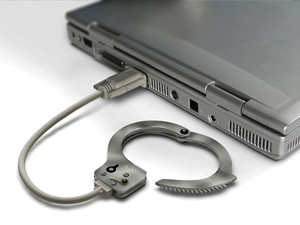 The Internet of Things (IoT) is the network created from hooking up normal household/business devices to the internet so you can monitor all of your business and manage it all on the go. IDC has predicted that it'll be a $3.04 trillion industry by 2020, but, despite all the amazing opportunities it offers, high-profile and frankly terrifying breaches – anyone remember the demon baby monitor incident? – have made it clear that more needs to be done before we get to that point!
Launching today in London, the Internet of Things Security Foundation includes big names like BT, Intel and Vodafone, who've come together with the aim of creating an industry body that will check that internet-connected devices aren't going to cause a ruckus by letting in all the bad stuff, and encourage developers to ensure any new devices are built with security in mind.
John Moor, representing the IoTSF said, "There are a great many possibilities for businesses in all sectors including manufacturing, transport, health, home, consumer and public services. However, there are ever-real security challenges that accompany those opportunities.
"It is vital to the adoption of existing and new systems that security is addressed from the start, that it is fit for purpose and it can be managed over the lifecycle of the system. Our intention is simple – drive excellence in IoT security. By creating a dedicated focus on security, IoTSF aims to be the home for providers, adopters and beneficiaries of IoT products and services."
He concludes that if we aren't more careful, we could be "sleepwalking into some big problems" – which, to be honest, sounds like it'd be best to avoid.
They're not the only ones working to make these changes either – organisations such as the BuildItSecure.ly, I Am The Cavalry and the Online Trust Alliance's IoT Trust Framework are working toward a safer future too, indicating an increasing collaboration and awareness of security that is, quite frankly, heartening to see.
And if it doesn't change, Moor reckons it could put people off the IoT, which could ultimately mean people miss out on some great opportunities! "It's a bit like the aviation industry – when it began, it had to reassure people it was safe to fly," he said. "We have to do the same and help people realise it is safe to connect." Or at least, that it will be.
Bottom line is, we – whether we're developers or users – need to be keeping security in mind at all times, ensuring that there are no weak links in the chain of our increasingly connected world.
For more information on the security solutions on offer at UKFast, take a look at our website or give us a call on 0208 045 4945.