What's Not to Like?
The lovely Lowri gives us the lowdown on Facebook's latest announcement and what it could mean for social media interactions!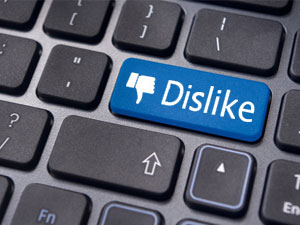 After a highly anticipated wait from its users, it's finally here, that little button we've all been waiting for… The 'dislike' button.
That's right; this morning brings big news for Facebook users as billionaire Zuckerberg announced the new feature for the social network at a Q&A session at Facebook's headquarters in Menlo Park, California.
After the 'like' button became one of the website's signature features, Zuckerberg felt the need to allow users to express a "broader range of emotions", so has finally introduced this greatly awaited feature.
He explained: "A lot of times people share things on Facebook that are sad moments in their lives. Often people tell us that they don't feel comfortable pressing 'like' because 'like' isn't the appropriate sentiment.
"Some people have asked for a dislike button because they want to say, 'That thing isn't good.' That's not something that we think is good for the world.
"The thing that I think is very valuable is that there are more sentiments that people want to express."
The dislike button will enable the social networking giant's 1.49bn monthly users to now disapprove of posts, rather than just simply liking, or agreeing with them, which undoubtedly will lead to a fair few Facebook disagreements. After all, at the moment the 'like' button keeps things relatively positive in the world of social media.
Undoubtedly, Zuckerberg's latest announcement is only the beginning of a string of new emotion features, from 'hate' to 'love' to 'why on earth is this a Facebook status?'. And one to look out for in the future, as previously mentioned by Zuckerberg, is a 'hug' option, perhaps to make up for the arguments caused by the dislike button…