eCommerce Live Speakers Announced!
The average online spend in the UK in 2014 was £718 million per week, rising to £763 million per week through November as people got hot under the collar for Christmas; which should be a time for hot chocolate, evenings in front of the fire, and long walks in the snow. If you're an eCommerce retailer though the festive period offers massive success, albeit often hot on the heels of massive stress. So, sign up to eCommerce Live and ensure you're prepared for the festive peak!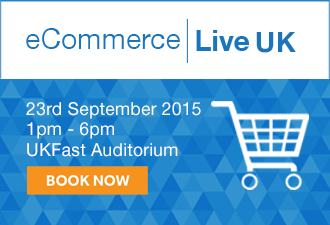 On Wednesday 23rd September – a mere eight days away! – an audience of savvy eCommercers will gather at UKFast Campus to hear the tricks of the trade from the country's biggest online success stories and ensure they're as prepared as humanly possible for Cyber Monday and Black Friday – two American traditions fast-becoming UK trends (if you've seen any of the news footage from last year you'll know this is a deadly serious undertaking for many shoppers!).
The speakers have now been announced for the event and we're not gonna lie, there are some real crackers in the mix, with wisdom aplenty to share! This community spirit is strong with our first speaker, UKFast's CEO Lawrence Jones, who – after 15 years in the industry – is raring to share all his insights with you: "We're running eCommerce Live to make the online retail sector bigger and stronger in the long-term by opening up channels of collaboration and helping growing businesses learn from each other."
Next up to the mic is Andy Hague, managing director of our cyber security and 'ethical hacking' arm, Secarma, talking about best practice in IT security. Andy frequently speaks for businesses across the country, offering expert knowledge on security and how crucial it is to online businesses.
He said: "Despite high-profile security threats hitting the news on a weekly basis, there are still some of the UK's biggest ecommerce brands who don't even have a firewall in front of their solution. Security is critical for online retailers; if you can't persuade your customers that you are behaving responsibly with their data, you are creating another reason for them not to use you. Even a single security breach has been enough to prove fatal for some businesses." If you've read or watched any news recently, you'll know how wise these words are in light of huge cyber security scares around the world.
Other speakers at the event include Steve Oliver of music recycling giant, Music Magpie who will focus on coping with peak times and Patrick Obolgogiani, a personalisation specialist at Nosto, the fastest growing personalisation solution in the world, serving over 10,000 retailers. Here's the rundown of our current speakers and what they'll be dropping some knowledge on:
Lawrence and JB, UKFast  – The importance of speed and infrastructure
Patrick Obolgogiani, Nosto – Personalisation "Personalisation; the key to success in Q4 – How to tailor the customer journey for more successful seasonal shopping."
Andy Hague, Secarma – Security "Why a lack of awareness is the biggest threat to your eCommerce business"
Plus panel experts including:
Steve Oliver – Music Magpie, (focus on coping with peak times)
David Grimes – My Parcel Delivery
Dan Cluderay – Approved Food
The focus of the event is speed and uptime, user experience, personalisation and security and you'll also have the opportunity to discuss the key issues face-to-face with the experts in a number of 'breakout clinics' on:
Infrastructure & Web Speed test – UKFast
Security & free vulnerability scanning – Secarma
User Experience Analysis – Apadmi
Personalisation Analysis – Nosto
Looking for eCommerce Live 2016?  eCommerce Live UK 2016