The Secrets to eCommerce Success
Do you have plans for the 23rd September? Well you do now! Book your place at eCommerce Live and discover the secrets to eCommerce success! It's in partnership with UKFast and our security arm Secarma, and is being held in our offices, so come along and say hi, whilst hearing top tips on how to nail eCommerce!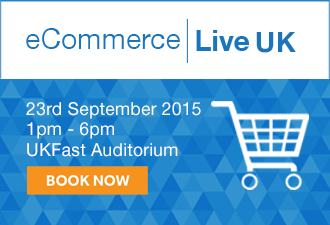 The event will be asking the tough questions (and answering them too!); from 'what makes a successful eCommerce business tick?', to 'what technology can the world of eCommerce not live without?', and crucially, 'is your business up to speed?'!
As well as hearing from trail-blazing eCommerce businesses, it's your chance to hear about the key trends in online retail for the next year from industry-leading experts and learn how you can increase conversions in the build up to Christmas.
You can also get in on a breakout session, which is one-to-one time with experts in speed & uptime, user experience, personalisation & security.
Speakers include Approved Food founder Dan Cluderay, with more speakers to be announced soon.
From the importance of speed and uptime, to the latest developments in mobile technology and user experience, eCommerce Live gives you all the tools and tips you need to succeed online!
Details:
Wednesday 23rd September
1-6pm
At the UKFast Campus (so you get to come have a nosey!)
Don't miss out – register now!