The Five Fears of Cloud Security
One of the biggest barriers to cloud adoption is currently security, and even with businesses that have moved to cloud, data threats are still hitting the top spot for fears. This could be translating into a massive missed opportunity, so it's important to face your fears; it's the only way to move forward in life – and in business. Or so a lifelong dependency on inspirational TV shows has taught me.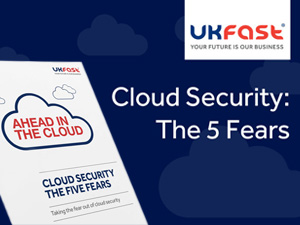 To help you through the dark times we've put together a cloud security eBook – an electronic (spirit) guide – that clearly outlines the top concerns of businesses when it comes to cloud security; dispelling myths, pointing out where potential holes are and offering some sound, practical advice to help take your business to the next level.
Inside our fear-fighting compendium you get:
A clear breakdown  of the top 5 fears of cloud security
Best practice checklists including practical tips on how to face your security fears head on
The three considerations for determining whether the benefits of cloud outweigh the risks
Without sounding like a cheesy self-help channel, there's really no need to let fear hold you back any longer. Cloud could be the next step your business needs to reach new heights!
Download the eBook now and banish your fears for good!