A Life with Pi
Bryn tells us about UKFast's sweetest mission; building a Raspberry Pi cafe for a school in Manchester.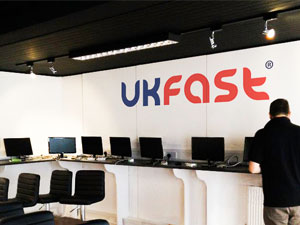 Last week, our very own Director of Education Aaron and tech supremo Tyson travelled down to the Dean Trust's Broadoak School. Their mission: to build a brand new Raspberry Pi Café for pupils, teachers, parents and community members alike to enjoy.
It's not the first time that we've helped the community to harness the power of Pi – a low-cost micro-computer that opens up technology education and development like never before.  In 2014, we set up a Pi Café in one of the poorest districts of Johannesburg, Lehae. Having seen the positive impact technology can have on a community and through our ongoing work with the Dean Trust, we decided to try it again – a little closer to home this time. We have been working with the Dean Trust for a while now, so we couldn't think of a better place to start than in an area of Greater Manchester where the Trust's impact has already been huge.
Based in Partington, Broadoak School's catchment is one of the most deprived in the North West. With 63% of its students eligible for free school meals, the school, rated as outstanding by OFSTED in 2014, has become a vital community hub – giving local kids the education,  skills and opportunities to break out of the cycle of poverty and help their community to flourish.
The new café, with 21 Pi computers, aims to continue the school's life-changing impact on this community by providing unlimited access to the digital world.
Thanks, in no small part, to Aaron and his education team, engaging and creating the next generation of tech superstars has become a huge part of UKFast's mission statement. We asked him what he thinks about the part we're playing in the Broadoak Pi project:
"This building was known as 'the shed'. We've transformed an old and disused space into something inspirational that can get kids and parents – the whole community – enthusiastic about IT and Computer Science. Computer skills are a must in any profession so this kind of resource is invaluable. Hopefully it will even inspire some students to pursue the IT careers that Manchester needs to future-proof its digital economy".
As well as providing a valuable educational resource, the café will become a social hub where everyone can get together, surf the web, learn and play, attend classes or just catch up with friends. Opening up the café to the whole community allows adults, as well as children, to take basic computer literacy qualifications and gain skills that employers are looking for. Because the café is an extension of the school, the people who use it get access to qualified educational professionals – that means all the know-how they need to surf the web and pass online qualifications is readily available.
The proof of concept is there for all to see and with a team currently in Malawi building UKFast's third Pi Café, you can expect to hear more very soon.
For more info on UKFast's education projects visit our training and education homepage.