Two Years
You might have met Mr Marsh on one of the many Manchester networking events, or on one of the tours we have of UKFast Campus each week, or at a training and education event. Well, Chris Marsh, or Mr Manchester as some call him, is the man in the know when it comes to the digital scene in the city.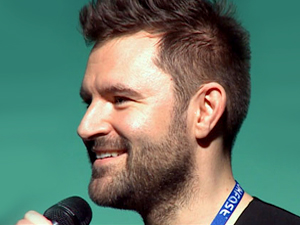 Chris joined us about two years and one week ago, not long after we moved to the new office. Since then, there have been some big changes and even bigger adventures, and a new baby!
A two year anniversary seems like the perfect time for us to catch up with @marsh80 and find out what he thinks of the UKFast journey so far…
Two years on already!
I've now spent the past 15 years in the server hosting industry. Since 2000, I've built and racked servers, cabled racks in datacentres and installed operating systems, but what I really loved was learning about how companies were using internet services and how they were positioning their services around it. I've helped teams with customer services, marketing, new business sales, account management and everything in between!
Working in the tech industry is unlike any other so, when thinking about my next steps in my career, I was never really going to do anything else.  What I love about tech is the constant change and how companies have moved towards it.
My role now is to support the Sales, Account Management and Marketing functions of the business and also the Training & Development team to help position the brand to the local community in a genuine way so they can interact with us, be associated with us and partner with us.
The most fulfilling element of my day is learning from businesses (they all want to grow) and helping them grow (research, plan & develop).
Within the first few months of me starting my new role, my son Joseph was born so it was a hectic time, but I recall early conversations with Lawrence and Gail, family is extremely important to them and they understand the pressures of balancing working lives with children. Having an onsite crèche has been great to be able to show my children where Daddy works.
At Christmas time we had the opportunity to help a local family who had suffered from an act of vandalism; the Harvey's Den project took off and I still talk to the family now. Their happiness and how it made me feel will stay with me forever.
My day-to-day duties mostly include office tours for potential and existing customers and partners; round  table events; school, college and university visits; a weekly Code Club at a primary school; speaking to new staff as part of their inductions (I just tell them to be positive, enthusiastic and confident); attending weekly sales meetings to give my thoughts and advice, and helping position and plan events with organisations like Mobile Monday Manchester, Manchester Camerata and Business Rocks.
We also hold external training events  so assisting with Millie's Trust has been extremely rewarding, especially when I'm told that two separate people have saved babies from choking by using what they've learned at one of these events.
Seeing so many people visit us is hugely rewarding as they're wowed by our wonderful environment and always want to know more. I'm passionate about the effect of first impressions so I help out on reception and behind the bar whenever I can (I get to speak to every single person that way!).
When I'm not in the office I spend my day networking and meeting people with a view to continue to learn about how businesses are growing and collaborating, specifically using digital products and services. There is a fantastic community, especially in Greater Manchester, that is willing to share and they know that this is the easiest and most enjoyable way to do that.
I'm interested in helping out every department at UKFast to make sure that the community in Manchester (and beyond of course) has a genuine and honest perception of us and that the staff feel engaged too.
My Dad recently asked me what it is that I do (thanks Dad) so I responded that I spend my day with either my friends or making new friends. He agreed that it's a wonderful way to spend the day.
To know what my next two years will look like is impossible, but I'm sure it will be even more exciting, interesting and rewarding than the last.