It's Time to Face the Music
Harriet takes a deeper look at privacy policies, and asks whether you're ready to hear the truth so you can protect yourself.
How many times have you clicked 'allow' when an app on your phone asks permission to access your information?  This could be a transport app asking for access to your location, or a social media app asking for access to your photos. How many times have you actually thought about what you are granting access to?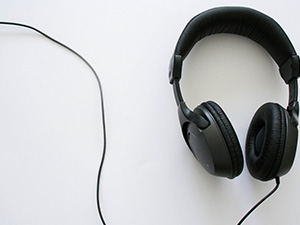 Spotify is the latest platform of its kind to release a new privacy policy that enables the app to have access to your personal information.
In the 'Information we collect' section of the agreement it states the potential for Spotify to collect information stored on your phone, such as media and contacts, as well as track your location and sensory movements.
So why does a music streaming platform like Spotify need to know all of this information?
All apps and websites are now built with one thing in mind – the user.
Personalised user experience is a phenomenon all digital businesses are now depending on to improve customer satisfaction, and to understand users' wants and needs. Tailoring ads to individual preferences and creating bespoke content are just two ways they can do this.
Information may also be used for additional services that improve the overall user experience, the 'running feature' in the case of music apps such as Spotify – which explains the requirement for access to sensory movements.
But what are the potential drawbacks of allowing these sorts of platforms to access your personal data?
Whilst personalised experience is often great, aside from the potential of being plagued by 'tailored' ads, the consequences of wilfully sharing information are exemplified in recent hacking scandals.
When the thousands of adulterers signed up to Ashley Madison's dating site they were unknowingly making public their most private affairs. The same principle applies to the numerous other scandals that have made the headlines over the years, yet it is still hard to be completely conscious of it until it's too late.
Whenever information is shared online it instantly becomes potentially vulnerable to outside sources. However, as highlighted in the case of Spotify, common pieces of information websites and apps will ask for access to, are often necessary for their functionality.
Unfortunately in a world where these platforms are constantly developing for ease of use, the only way to avoid it without becoming reclusive is to always remain aware and diligent.
Most smartphones will allow you to turn off access rights in 'settings'. Sometimes even the most innocuous website or app can be at risk, as long as you understand just what you're saying 'yes' to, you open yourself up to less vulnerability.
**UPDATE: Spotify has released a new blog addressing user concerns and explaining exactly how your information will be used**