WebinAre you eCommerce-ready for the Festive Season?
Do the words Black Friday strike fear (or joy) into your heart? Is Cyber Monday a day that causes you to seriously consider moving to a tropical island each year – or is it one of the most profitable days of the year for you? Whichever it is, eCommerce sites need to be ready for the rush! Good people of the internet, you are formally invited to join us for the webinar that's going to help your eCommerce site through the festive period, so you can enjoy a hassle-free holiday!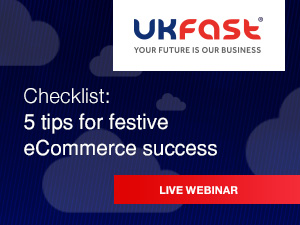 On Wednesday 2nd September we're hosting a webinar to help you get eCommerce-ready for the festive season. UKFast's Managing Director Jonathan Bowers will run through our top five tips for eCommerce success, covering all the things that you want to know – and maybe some things you didn't even know you needed to know! – to ensure you have everything you need to keep your customers happy and the cash flowing in.
You'll have the opportunity to put your questions to Jonathan to make sure we don't miss anything of special interest to you. Sign up now, and give yourself the gift of a fantastic festive season!
The nitty gritty:
Date: 2nd September 2015
Time: 3pm BST – 45 minutes plus live Q&A
The webinar will cover:
How website speed affects eCommerce success
How mobile optimisation improves your site's Google ranking
What aspects impact your search engine optimisation
Why you should be PCI compliant
What the most common causes are for website downtime
Register now and ensure you're eCommerce-ready!