Five Flavours of Data Centre Migration
If you're thinking of migrating and are a bit baffled by all the options, Bryn's got a quick rundown of the five different types to clear things up!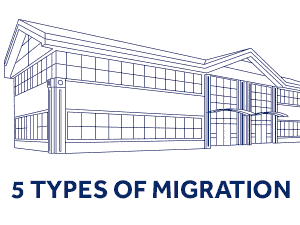 Congratulations. You're the proud owner of a growing business. Everything's on the up so what's that nagging feeling? How long before your company inevitably outgrows that server cupboard under the stairs? Don't worry you're not alone. For many, colocation is the answer – businesses that make the jump to take advantage of purpose built facilities, greater flexibility and increased security whilst maintaining complete control over their hardware.
So what's stopping you? It's likely to be the fact that collocating involves a wholesale data migration and that can be pretty daunting. Anxiety towards migrations is often a fear of the unknown. What does migrating entail? How long will it take? To help alleviate some of that stress, here is a brief summary of five types of migration explained, one or some of which might be the key to getting you out of that server cupboard and into the colo world.
Consolidation
If you've got data stored in multiple locations then bringing it all under one roof can be a great way of streamlining processes and cutting down costs. This type of migration is all about coordination – making sure that all the teams and sites involved communicate clearly and know exactly what they are doing and when they are doing it.
Swing
With large amounts of equipment, phased migrations are a great way of simplifying the job. A big advantage of 'swing' (sometimes called 'leap-frog' migration) is that you don't need to buy shed loads of new equipment. Just get enough to facilitate one migration phase and then, when the data from it has been moved, use old equipment to perform the next phase.
Lift and Shift
Sometimes referred to as 'forklift' migration, this type of migration is for moving a dedicated environment. It does exactly what it says on the tin – move a complete hosting infrastructure from one site to another.
Modernisation
As a lot of businesses find, in-house data storage makes it difficult to keep up with ever evolving data hosting tech. But just buying new equipment is no good if it's still being stored in an unfit-for-purpose environment. Moving to a purpose built DC means your brand spanking new hardware gets a state-of-the-art environment to live in.
Virtualisation
Virtual to virtual migrations can be the best option for some – without the need to move large amounts of equipment this method can often be the most cost and time effective. The catch is that it only works for relatively simple infrastructures. If you're moving from multiple sites or have lots of complex applications this method might not be an option.
Ultimately, data migrations are all about planning. Knowing what type of migration your business needs is a really useful first step to a fully detailed, fully manageable migration plan. It doesn't have to be a nightmare.
Take a look at our migration manual for a full step-by-step guide to moving your tech.