My Week at UKFast – Fairooz
With the A-Level results announced today it's fitting that we've got a fantastic blog from Fairooz, one of our recent work experience students, to share with you! What's even more exciting is that Fairooz joined us from Manchester High School for Girls, which found out that it's hit a record-breaking high for results since the school began 141 years ago – and Fairooz achieved an unbelievable four A*s and an A! Congratulations Fairooz, that's absolutely incredible!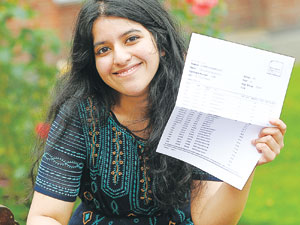 I'll admit, before my first day of work experience at UKFast, I was pretty nervous. This was going to be my first look into working life after leaving school, so I had no idea what to expect. The nerves dissipated a little once I got inside the building, though – it's pretty hard to be scared when you're sitting on a sofa next to a sculpture of a large bright red cow. Any remaining butterflies were gone once I met Aaron and Arlene; their friendliness and infectious enthusiasm really helps to put you at ease.
After a quick tour of the building, I spent the morning shadowing two of the Windows engineers, Joe and Ryan. There was so much going on: table tennis games, people kicking beach balls in between taking calls – once I even saw a dog running around. It was incredibly busy but no one was stressed. Of all the things I thought working was going to be like, I never expected it to be so… fun. But, despite everything going on, everyone was still focused on their jobs – including us.
In the afternoon, I met some of the apprentices and was given a challenge based on Linux, a command-line based operating system. I balked at the thought of it; though I am going to study computer science at the University of Cambridge, at this point I'd never really done anything technical and I'd certainly never touched Linux before. But Aaron decided he wanted to "throw me in at the deep end", and that he did with my first task: to build a WordPress website. He showed me the steps and a few commands to do basic things such as making directories (mkdir) and looking at files (ls), and then left me to it. At first I felt completely out of my depth but after a bit of playing around I soon got the hang of it. It reminded me a little of the text-based adventure games I used to play as a kid – I felt pretty lost at first without any visual cues to guide me, but after getting used to everything I could build up a sense of my surroundings and navigate just fine. At the end of that session I was the proud owner of a brand new website!
I also got to sit in on the training sessions for the new employees. It gave me a pretty good insight into how the business is run – I learnt all about the management style and the company's values. On top of that, everyone got tech training, including the people working in sales. I loved the session; I got to see the inside of a server and learn about the purpose of all of the different components.
One thing that struck me about this place is the way everyone is always willing to learn and teach each other. Almost everyone I saw had a notebook of some sort. Ryan's main piece of advice to me was to write everything down, because everyone has something useful to share. Rohann, the new Linux night engineer, gave me plenty of advice on how to start learning about the technical side of the computers on my own, which I'll hopefully get to put to use when I'm at university. I even learnt how to play snooker during one of my lunch breaks!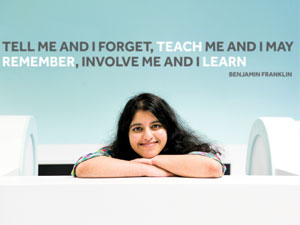 After a few days, I really thought I'd gotten used to the quirkiness, until Thursday morning when Arlene asked me, "How do you feel about cats?" The question definitely caught me off guard, and a response of "Umm… good?" was all I managed to get out before I stepped into her office and found the tiny kitten that would be spending the day there, staring at me from underneath the desk. (I think I spent about an hour that day playing with it). From the bar on the top floor, to the chill-out room with the amazingly comfy sofas, to the bright red cow in the waiting room, it's fair to say UKFast is a little bit different. And honestly, that's what makes UKFast such an interesting place to work. Every day I've seen something different, and the experience has been amazing.
I'd like to thank everyone at UKFast for an incredible week here! I've learnt plenty and had a great time – this is definitely the most interesting work experience I've ever had.
To find out more about our work experience programmes and the training and education at UKFast take a look at our website or give us a call on 0208 045 4945.