Spelling Out Google's Big Change
I use Google more times a day than I can count. From the professional (to find information for work) to the geographical (if I need to get anywhere, ever, because I'm still pretty sure my phone's GPS is trolling me) to the amusing (Google spectacularly autocompletes 'aren't you' to 'aren't you relieved to know you're not a golem' and 'aren't you a little short for a stormtrooper'). And now, Google itself is searching for a fresh start, in one of the biggest rebrands of our digital age.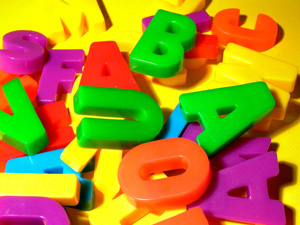 Yesterday Google announced in a surprise blog that it's rebranding itself as Alphabet, a new umbrella company which will have Google as its largest wholly owned subsidiary.  The rebrand will come with a major shakeup of the company's structure and management in tow, offloading the search engine business it's best known for to Sundar Pichai.
Larry Page explained the reason for the sudden move: "As Sergey [Brin, co-founder] and I wrote in the original founders letter 11 years ago, 'Google is not a conventional company. We do not intend to become one'. As part of that, we also said that you could expect us to make 'smaller bets in areas that might seem very speculative or even strange when compared to our current businesses'. From the start, we've always strived to do more, and to do important and meaningful things with the resources we have."
In case you're worried how you're ever going to find anything or get anywhere, the SEC filing states, "Under the new operating structure, its main Google business will include search, ads, maps, apps, YouTube and Android and the related technical infrastructure (the 'Google business')."
The move has apparently come after pressure to be more transparent about the company's increasingly left-field investments in things like internet-delivering balloons, mostly in the dolla area.
It's also a way of 'slimming down' the company, allowing spin-offs to spearhead their own brands. Whilst Alphabet shelters branches like Nest and Fiber (the broadband arm), other parts – along with the investing arms like Google Venture and Capital – will become separate entities. "Fundamentally, we believe this allows us more management scale, as we can run things independently that aren't very related," said Page.
There's been some division as to whether it's a good move or not but, "On balance the news is positive," wrote Pivotal Research analyst Brian Wieser, "as this provides for incremental transparency into Google's business and suggests the company is looking for ways to balance founder and employee interests with those of investors."
Google shares also rocketed 5% after the announcement, and will automatically be moved across to corresponding Alphabet shares, but will keep on tradin' on under the stock ticker symbols GOOGL and GOOG.
Clearly sometimes even the biggest and most well-known companies have to make bold moves and rejig a winning – or what appears to be a winning – formula in the interest of moving forward. It will be interesting to see whether the shake up provides the clarity that the company is looking for, or whether it ends up getting lost in translation.
If what you're searching for is the perfect hosting solution then take a look at our website or give us a call on 0208 045 4945.