Our New Addiction
Whilst I've managed to convince myself that the only things I'm addicted to are Freddos and caffeine, a new study shows that I – along with the majority of the population – am probably addicted to my phone. Like it or not this is becoming fairly standard so, whilst it's important not to become too enamoured with our gadgets, the options seems to be escaping to a reception deadzone to detox, or – if you're a business – cashing in on this delightfully legal dependency.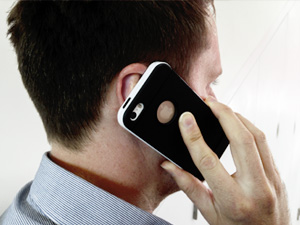 According to a new report by Ofcom, UK adults spend on average two hours a day using the internet on their smartphones, putting the little pocket pals marginally ahead of laptops as our favourite method of connection for the first time ever.
It's a clear sign of the rapid pace of tech evolution and, with it, of user preferences. Jane Rumble, director of market intelligence at Ofcom said: "We've reached a landmark moment where the smartphone has become the most important way for people to get online – just last year laptops were in first place."
It means that retailers have to be more in-tune than ever and on their toes to provide the best service for user needs. However, studies suggest that for the sake of your mental health it's important to unplug sometimes too – if Lord of the Rings taught us nothing else, it's not to become too dependent on an object.
The report reckons the improvements made to cameras could be part of the reason for their surge in popularity, with phones also outstripping digital cameras as the favourite method of taking pictures (it suggests that we're also addicted to selfies; we took 1.2bn last year alone – most of which were of my sister if her camera roll is anything to go by).
The other option points to improved speeds and subsequently, more 4G users – these guys apparently did more banking, messaging and video watching on their phones than anyone else.
Seeing as mobile is becoming an increasingly important part of consumer buying habits – and with Google changing its algorithms so that it ranks mobile-friendly sites higher than non – now more than ever it's something that all online business should be nailing.
For more information on how to make the most of your tech, give us a call on 0208 045 4945 or take a look at our website!