First Impression of UKFast – A New Culture of Work
In today's post Harriet, one of our newest recruits, tells us about her first impressions of UKFast and why our definition of 'work culture' is a little different!
Barbecue on the beach, lounging by the pool, ice cream in the sun – sound like a day at work? It does for the UKFast employees. One of my first impressions of this place was that they don't do it like the rest, and if a beach in the office car park isn't evidence enough, I don't know what is.
For most people, there are negative associations that come with the word 'work' – those people have clearly never come to 'work' at UKFast.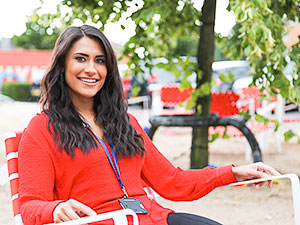 Work is typically a combination of a need for income and purpose, and the desire to develop a passion but too often the latter is stripped away  and work becomes a laborious means to an end. This is largely to do with the culture created from the people who ultimately make up the place of work.
The general principles and core values of UKFast as a company to work for are what all companies should take on board. In previous jobs I have too often witnessed people in management berate those subordinate, give no praise and I have seen passion and creativity be sucked out of employees. UKFast does the exact opposite.
My first experience of this was when I came for my interview. It was a blissfully sunny Friday afternoon and obviously in the world of UKFast, this meant beach day! Ice cream van, sun loungers, sand and a pool, as well as all employees dressed in beach wear. I was handed an ice cream whilst I waited to be seen and already I felt at ease, who wouldn't? This epitomises the way UKFast rewards its employees, and how the people who work here bring fun into their jobs whilst never detracting from the hard work they do.
The infectious energy of this place radiates throughout the whole business – it isn't just the impressively quirky fit out, or the fact there's a beach outside – but the buzz from the staff. They are quite clearly a rare sort of person who love their job and want every person who walks through the doors to know how proud they are of it. The type of life-affirming, energetic people you want to work with every day.
After a series of aptitude tests and an interview with Lawrence (UKFast CEO), Jonathan (the MD) and the head of recruitment, Jayne – I was offered a job and given a tour of my new place of work… I was blown away. Stylish gym, its very own auditorium and even a bar on the third floor – all built with the people who worked here in mind.
I could see that Lawrence knows exactly the sort of workplace he wants to create and exactly to sort of person he wants working here. The aptitude tests are certainly done for a reason – I had no real experience in the tech world and I was still learning in my own field, but Lawrence repeatedly used the phrase 'superstar' and each person here is that in their own right. Luckily enough I appeared to fit the bill and three weeks later I started.
At 8:45 on my first day I was led upstairs to the Monday Morning Meeting which involves the MD reflecting on the teams achievements from the previous week – this could be anything from sales, to sports – work achievements or personal achievements – accreditations to teams and individuals. What a great way to start a week and an example of how praise, reward and recognition in turn lead to a successful place of work.
The following days have consisted of some fantastic training from a team of two education specialists who have trained and nurtured many newcomers over the course of a few years and are former school teachers. Anyone from the 16-year-old apprentices, to the maintenance workers to the commercial director; the employees are confident and committed, full of passion and enthusiasm, and it excites me to be a part of it.
Each person I talk to has faith in my ability to flourish in this environment as they have watched so many others do the same. It doesn't matter that I'm new, it doesn't matter that it's unfamiliar – all that matters is that I have the formula common to all UKFast employees – ambition and faith in other people's ability.
A successful company starts with the people who work there. This is ingrained in everyone's way of thinking at UKFast and has been filtered down through years of hard work, trial and error and the ability to constantly grow and improve. It is great to be welcomed into such an environment and to see what the culture of work should really look like.
If you think this sounds like the place for you, take a look at our careers page and see if you could be our next superstar!