Why Migrate?
There are many reasons you might want to migrate your hosting solution. Like birds flying south in the winter, moving to a new data centre – or moving to a data centre for the first time – can be a massive boost for your business, but if you've thought about it and never been sure whether a bird in (the) house is worth two in the data centre then read on!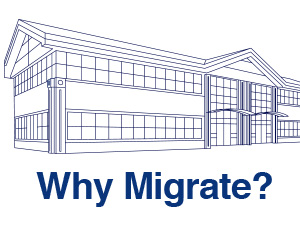 So, you've got some data and you've got some hardware, and you want to make sure they're both housed in the optimum conditions for the highest possible performance. There are lots of reasons you might want to put yourself in a DC's capable racks for the first time, or make the decision to move on to greener pastures; here are 5 of the most popular:
Modernisation – Maybe your current equipment is looking a little ropey, or you're not getting the best tech for your dolla. If you're in-house, taking care of data is also expensive and bulky, especially if you're spending lots of money on new kit, and there's no point keeping it in a server room on-site as you'll need to make sure your location is fit for purpose anyway; if you're already colocating then you want to make sure you're getting the best possible service!
Growth – Tech equipment is like the elephant in the room – it takes up a lot of space! And as your solution and data grows, so will the amount of tech you'll need to support it – most people just don't have that kind of real estate.
Facilities – Data takes more looking after than a high maintenance in-law (amirite??). Colocating with a specialist data centre provider means you'll have everything you need to keep your business applications up and running – for example, data centres need to have purpose-built cold aisles to maintain optimum server temperatures, as well as redundant power, resiliency, and the connectivity levels needed to support your solution!
Security – Part of what's included in the above is security, as data centres are purpose-built to have on-site security and protection, because – as I'm sure you already know – data is incredibly precious.
Cost – And at the end of all of this is money. You might want to move to a DC that's better value for money, or are tired of the hefty costs of keeping your data happy in-house – if you're in a place that's built to provide good service it means you don't have to maintain a fit-for-purpose in-house solution and it's just far less hassle!
If all of these things are striking a chord, then next up have a quick think about business impact. An initial risk assessment to weigh up the immediate business effects of a migration versus the risks of maintaining the status quo, based on the above criteria, will let you know whether this is the right thing for you (we'll be discussing this in more depth at a later date).
Ultimately, if it is the right thing for you and your data, by re-housing your hardware to a data centre and becoming a colocation customer you'll get the best of both worlds – the environment your hardware deserves with the control you need. At UKFast our ISO-accredited data centres protect, connect and safeguard your solution and our UK-based team can answer all your questions on how to have a hassle-free migration!
To find out more about how to have an easy migration and more about the practicalities, download our easy-to-understand guide!