DEA Finalists Announced!
by Katherine Kelly
We're thrilled to share the news that the DEA finalists for 2015 have been announced! There were so many amazing entries across the board but now the chosen ones are ready to go through to the next round! I feel for the judges having to choose winners out of such a strong pool of entries, but these excellent people are now one step closer to deciding who will be our champions of digital for 2015!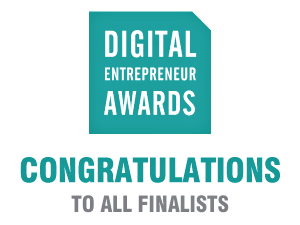 The Digital Entrepreneur Awards are a one-of-a-kind opportunity to recognise and celebrate talent across the digital industry; with categories ranging from E-commerce Developer of the Year to Best Use of Mobile, and from Most Creative Use of Technology to, of course, Digital Entrepreneur of the Year.
It's our eleventh year as the main sponsor of the awards, and it's so great to see how far the digital industry in the UK has evolved over the last decade! As part of this, we're incredibly excited to see the number of startups appearing in this year's group of finalists, and the range of locations from around the country being represented!
Winners from last year include well-known names like Lucozade Powerleague, but the awards also celebrate the amazing smaller and newer talents emerging in the industry, so there are lots of soon-to-be-well-known names in the mix too!
There are also some exciting new judges still to be announced, joining big names like Jacqueline Gold (of Ann Summers and Knickerbox fame), some BBC big hitters and of course UKFast's very own Lawrence Jones!
The winners will be announced at the extremely glamorous ceremony on November 11th at the Palace Theatre in Manchester and if you haven't already booked your tickets you best get a move on – as anyone who went last year can tell you, it's a pretty spectacular evening. Digital entrepreneurship affects everyone and touches every part of every business so there's really no reason you wouldn't want to get involved!
Discover who the finalists are and book your table for the awards night now!