Facebook sets its sights on Google's crown
Facebook today tightened its grip on big brand ad spend, and seemingly set its sights on knocking Google off its perch as leaders of the internet.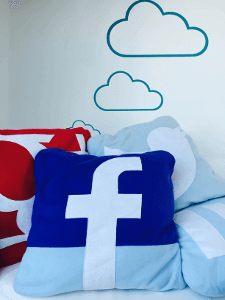 Whilst Facebook undoubtedly takes the crown as the King of Social Networks, it is now hitting Google where it hurts – ad revenue and search.
Reporting 39% increase in quarterly revenue, almost 75% of that came from advertising on mobile devices, Facebook is going for the big spenders and there's little the big G can do about it.
Facebook has indexed more than two trillion posts and its users now conduct more than 1.5bn searches a day.
Although between them Google and Facebook hold the bulk of, and will capture at least 50% of, the $69bn global mobile ad market this year; Facebook wants more.
Going back to ad revenue, let's not forget that Facebook owns Instagram. Whilst it currently generates no revenue, if it targets the market right, Instagram could prove to be a pot of gold for the social giant.
By comparison, this week, Google reported an 11% revenue rise, year over year, and sounded the death knell on its own struggling social media platform, Google +. Launched four years ago as 'the next Facebook', G+ has stumbled repeatedly despite new feature launches and constant changes to the UX.
Over recent months, Google has split off several of the platform's key features and, this week, announced that a Google+ profile is no longer needed to access key Google features. The network is also set to be split into photos and streams. Although there has been no formal announcement of the end of the network, these sweeping changes certainly mean the end of it in its current form.
Many have rumoured of the eventual social bubble burst, but Facebook is growing. Its shares have risen 24%, it has an enviable profit margin and it is only scratching the surface of ad revenue generation across all of its platforms.
Could this week be the beginning of the end for Google as a whole, not just for Google +? Dramatic, sure, but with figures like these, it seems inevitable if Facebook continues on its current trajectory.
Do you think Google is flagging or is Facebook heading for a bust?