Good is Expected, Bad Goes Viral: What Makes a Good UX?
We have seen the evolution of eCommerce right before our eyes. The internet has revolutionised the way the world does business at every imaginable level and the ubiquity of smart everything – phones, watches and gadgets – means the end user can peruse the internet in search of their next buy pretty much anywhere, at any given time.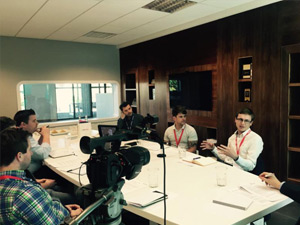 Today our guest blogger Nadia looks at what makes a good user experience (UX) and what your business can do to ensure the user's journey is as pain-free as possible.
Although the interpretation of UX is multi-faceted, stripped to its bare bones a good experience must satisfy the basic and immediate needs of the customer. Landing pages that have strong navigation, a clear layout and can process multiple transactions will go some way to providing a good UX.
Superfast page load speeds and ease of use are certainly vital components of UX but there is a much bigger picture. Experts in eCommerce agree that more attention needs to be paid to the customer journey in its infancy, i.e. customers' sentimental perceptions of your brand.
Tom New from technology firm Formisimo says: "For us UX is how people feel when they interact with your business online. There's a lot of emotion behind buying decisions. Websites not only need to be built with customers in mind in terms ease of use but every part of the buying cycle needs to be considered for there to be an effective transaction and conversion at the point of sale."
In-depth research on customers is also essential. Customer data is important as it can provide invaluable insights even before a customer interacts with your brand. With the right information on target demographics, businesses can create a more tailored user experience.
What is also interesting is that industry experts believe that customers may not be fully aware of what a good UX is.
Tom explains: "Customers may not be able to define what a good user experience is, but they certainly know when it's bad – it goes viral within seconds and they complain about it pretty publicly. They may not be able to tell which one is the better out of two well-designed sites but they will pick up on a frustrating experience."
Robert Fernandez, Director of furniture retailer Rattan Direct, says: "Businesses need to strike a balance between great website design and the components that make a good user experience such as automated postcode lookups, and then allocating their resources accordingly."
According to Kevin Jones of Manchester-based firm Tecmark, it is easier for businesses to offer a good UX, as page load speeds improve and networks become more robust. However he agrees that this is only one aspect of UX and there needs to be more thought in terms of evoking positive emotions and creating a more meaningful online user experience.
Many different factors have to come together in order to provide a good UX and often a well-designed website is just the tip of the iceberg. Delivery options, the returns policy and the business model around the product are what we really make the difference to your bottom line.
Comments taken from our recent round table – if you want to get involved in a UKFast round table and meet industry experts whilst sharing your expertise drop us an email at communications@ukfast.co.uk!