The Wonderful World of Work Experience!
At UKFast our training and education team are always getting the young minds of the future here for work experience; we love seeing young people excited about their future in the working world! Today we have Dan talking us through a his week's work experience with UKFast!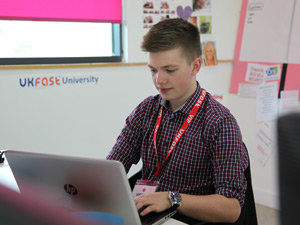 My name is Dan.  I'm a 16 year old who attends Bury Grammar School and I'd like to tell you about my week at UKFast. It's been such an amazing week to be here working in different areas of the company, and shadowing people. People like Arlene; the friendliest and most amazing person in the business (Arlene totally didn't tell me to put that in).
My first day – time to make an impression; suit, tie, black socks and shoes. I arrived slightly early and a bit nervous. Arlene met me in the foyer and led me upstairs to meet two of the apprentices, Daniel and Javan. I spent the next couple of days shadowing the internal and external support team. It was hands-on so I was temporarily given a very nice UKFast hoodie so my shirt wouldn't be messed up (I need to find where they get them from!).
External support showed me some of the programs they use such as 'putty'. I tried my hand at something called the 'the bandit hacker challenge' – a programme that teaches Linux code. Let's just say I only got to level 2…no Linux for me! With internal support I helped build a 'POD' – a cluster of computers for a 7-man team; this required 7 computers, 7 keyboards, 7 computer mice, 11 monitors (as there were going to be four support staff on this pod, and they have 2 monitors each) and tonnes of cables… no exaggeration!
I also learned how to imprint an 'image' of an office pc onto a newly built pc, using a server. By image, I mean they have prebuilt saves of what the computers need to have on them, ranging from Word and Chrome etc. to speciality programs such as putty and Linux.
Each day ended with a kind of dirty suit, a very happy work-experiencer, and even more excitement for whatever was next.
In the second half of the week I shadowed the Windows and Linux teams. I worked with Andrew, a member of the Windows team, another extremely friendly member of staff (am I seeing a pattern?). He helps clients using Windows servers with any issues; these can range from email issues to file permissions.
Next, I was with Patrick, a member of the Linux team. I had never really used Linux before, so this was a particular challenge to understand, but I coped…I hope. I did pick up some basic commands, such as ls, ls -l, and ll, which display a list of the current files in the directory. This lets you do pretty much anything on the server.
I was learning so much from the team and didn't want the week to end.
Thursday was Raspberry Pi time! For those who do not know, Raspberry Pi is a small computer that runs on multiple OSs (operating systems), most commonly Raspbian, which is based on Linux.
To begin using Raspberry Pi, you first need to load an OS onto an SD card, plug it into the Pi, and install the OS. I used a basic form of Raspbian called NOOBS, as it was my first time. Sounds complicated but I did have a book which helped me through all the steps to get through the setup and further.
The final day – that week went too quick! First thing, I joined a tour of the data centres, led by Miles, the head of electrical power. He showed us MAN4, where there are currently over 12,000 servers. The DCs need to have lots of cooling to be able to operate them efficiently – one side of a data centre is covered in fans. On top of that, there are backups in case of power or connection failures. All of that adds up to a lot of power. MAN4 uses about 2 mW (megawatts), equal to £100,000 in electricity bills per month! Even so, UKFast manages to remain carbon neutral.
After the tour, I met up with the comms team where I wrote this blog. Everyone was just so nice! Loads of people asked me how I was doing, if I needed any help, or just if I wanted a cup of tea. I even got my photo taken. They said it looked good, but being the teenager I am, I thought I looked terrible!
So that was my week at UKFast. I'd like to say thanks to everyone who took care of me and a special thanks to Arlene, Daniel, Javan, James, Andre and Patrick for putting up with me. Most importantly thank you to Lawrence for allowing kids and young adults like me to do work experience at UKFast; it's been one of my favourite weeks ever.
To find out more about our work experience programmes and the training and education at UKFast take a look at our website or give us a call on 0208 045 4945.