Fancy Winning a Year's Free Hosting?
It's competition time, and this one is going to put you on cloud nine! You've got an amazing opportunity to win a UKFast eCloud® solution worth £16,000, and if you're not sure how eCloud can make a world of difference to your business, then read on!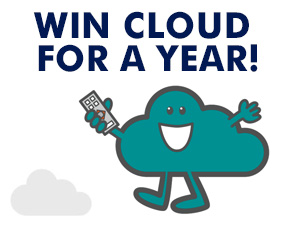 Cloud is a major player in the hosting world right now and could revolutionise your business. Our new eCloud competition is your chance to try this amazing tech, combining world-class technology with 24/7 support, for a year, for free!
So, the deets. First prize is hosting worth £16k and second prize is worth £6k. If you bag a place in the top 5 you'll join the lucky finalists to pitch to win at UKFast campus on Friday 31st July. Plus, runners up will receive a month's free trial of our eCloud Flex solution.
Entering is really simple and a chance for any budding actors and directors to get their moment in the spotlight. All you have to do is record a video telling us why your company would benefit from a year's free eCloud hosting and what you would do with it. You can use your phone, a webcam or even a studio if you want to go super fancy, to film a mere 30-45 seconds of footage. So equally if you're camera shy, fret not – it's not a strenuous task!
Then, to submit your entry, enter your details on our webpage, upload your clip to YouTube, enter the link and Bob's your uncle, eCloud's your…aunt. If you don't have a YouTube account you can either sign up for an account or send us your video by email.
Finally, take your 35 seconds of fame and share your video with the world – or at least, with Twitter and Facebook – using the hashtag #WinUKFast.
eCloud Hybrid
32GB RAM
24 vCPU
1000GB Storage
1000GB Backup
Single Dedicated ASAv5 Firewall
eCloud Public
8 vCPU
16GB RAM
200GB Storage
Backup
Full Support
The fine print:
The closing date is Wednesday 22nd July 2015 at 12:00, so get filming! If you're one of the lucky finalists we'll drop you an email to let you know, and finally, finalists will be invited in to pitch on Friday 31st July 2015 from 10.00am -12.00 noon, so please make sure you're free on this date before you enter, because we'd hate for you to have to cancel a family wedding/holiday/other awesome event to come and meet us (which obviously you would!).
There are a few Ts&Cs that you need to get to grips with on the website but otherwise, what are you doing here, it's time to get filming!