UKFast Career Day
Everyone loves a good video – it gives our poor hands a chance to delay the RSI onset from manic typing, and our tired eyeballs a chance to see something fun. And what's more fun than the youth of today embarking on a learning journey?! Students from Oldham College dropped by UKFast Campus recently for a workshop on career pathways and jobs in the tech industry; this is what happened.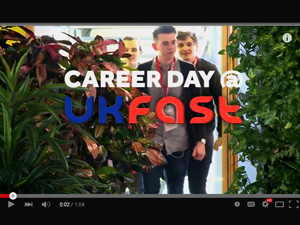 When the students popped in for a visit, our training and education experts Aaron and Arlene talked to them about what skills will be required by employers in the future and how a student can make themselves stand out in a job interview.
UKFast has an ongoing partnership with the college, which opened the UK's first Digital Career College last year. UKFast supports its innovative curriculum and helps inspire them to do things differently, by teaching its students real, practical business skills through live project briefs for them to interact with.
We work with the school on masterclasses throughout the academic year and take on students from the college in a unique and continuous work experience programme. It's a two-way relationship, as we then go and do 'in the wild' Cisco training in their practical, Cisco-qualified labs, which is an incredible opportunity offered alongside the in-house facilities available at UKFast!
If your school is interested in getting involved with UKFast get in touch!