Fridays at UKFast – 3rd July
It's the last day of national beach week and the sun is out, the BBQ is on, and the weekend is basically here already! First up (or maybe later…) catch up on what's happening in the tech world, and then get on out and have fun! We've been talking about UX in eCommerce, what rising consumer confidence means for you, why bending the rules is good for you, online product customisation and the importance of skills for business! Happy Friday!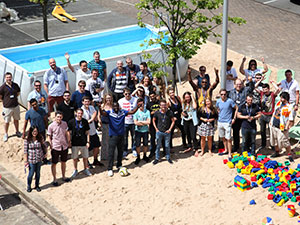 Big data might save security
One security guru reckons that big data might be the way forward when it comes to helping predict and prevent security scares; turns out, using large amounts of data to predict user behaviour is good, but being able to predict the behaviour of an attacker is even better!
The idea is that having and using all this data in a strategic way would let security analysts become more proactive in their crime-prevention strategies. It seems to work too, as Ramses Gallego of ISACA (who wrote the article) has been in projects himself where attacks have been prevented by studying large amounts of available information. Looking at information after a breach can also help us to learn from the problem and ensure it doesn't happen again. So what do you think – is big data the future of security?
Twitter town
Jun, a town near Granada in Spain, has taken a love of the social media platform to the next level, as it's now administering its public services through it. The town's mayor has been experimenting with Twitter for a while, and it even holds an annual Twitter conference. He says:  "Twitter has created the society of the minute – very quick questions and very quick answers. We now do our paperwork on Twitter," he says. "But this is an important point, because who values the work of the people at city hall? The street sweeper? The cleaner? We decided that everyone would have a Twitter account so that they could see that people value their work."
The residents of the town can use Twitter for almost anything – from booking doctors' appointments to reporting crimes. The mayor reckons it's a great way to be more efficient and cost-effective, whilst making the town feel valued. And looks like he might be right, as feedback from the residents has been great so far, and they've even managed to cut the police force as it's so much more efficient.
The new face of bank payments
Mastercard is starting to use facial recognition to verify payments – and that means lots more selfies. 500 users will be testing out the tech and will use it instead of PIN numbers in an attempt to interact – and presumably attact – more with younger clients.
MasterCard chief product security officer Ajay Bhalla says: "This [app] seamlessly integrates biometrics into the overall payment experience. You can choose to use your fingerprint or your face – you tap it, the transaction is okayed (sic) and you're done." Users will need to hold their mobile phones at eye-level and blink once when instructed for the check-me-out checkout process to complete, which will help stop would-be fraudsters using photos of people to get into their account.
Women's football eh, amirite??
Have a great weekend!