Welcome to the World of Online Product Customisation
As eCommerce explodes and customers want personalised products instantly, finding ways to meet their needs is a challenge for businesses. Andrew Talbot, founder of Gateway 3D, tells us more…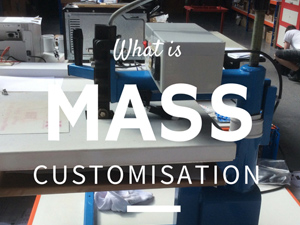 Online Product Customisation or Mass Customisation is the production of personalized or customized products to meet individual consumers' diverse and changing needs using mass production techniques
It is a fast growing global trend in the eCommerce world best illustrated by the phenomenal success of websites like Vistaprint, Moonpig, Zazzle and Teesprint.
Most major UK retailers are already active in this sector with Tesco, M&S, WHSmith & ASDA all doing substantial volumes. It is also important not to forget other high volume sites like Getting Personal, Gone Digging, Moonpig and Photobox when looking at the market as the mass customisation has many different sub sectors, such as photo gifts, personalised gifts, and print on-demand fashion t-shirts, to name a few.
As print technology has evolved it has made it possible for product suppliers to produce a one-off for the same sort of cost as a bulk production run, so they are now keen to offer these services via more eCommerce sites. Products as diverse as t-shirts, trophies, signs, mugs, tents and phone cases can be personalised; to understand more about what kind of products can be personalised take a look at this Gateway 3D demonstration website.
From an eCommerce perspective it is an attractive proposition as there is no investment in stock and sales are usually incremental – as the products involve a user creating a product online conversion rates are higher than normal with up to 15% sometimes possible.
You can learn more about these at the Create Sell Print Event at UKFast on the 14th July, which has been put together by Gateway 3D to enable dropship suppliers and ecommerce B2B & B2C retailers to network and learn more about this exciting market, as well as see the latest products and technology available. It also features guest speaker Wouter de Vries CEO of one of Europes leading suppliers YourSurprise.nl.
Andrew Talbot is the founder of Gateway 3D, a global leader in software for mass customisation and web2print based in Macclesfield, UK and Aachen, Germany.