eCommerce: As Easy as UX-Pected?
Globally a massive 4 trillion dollars-worth of shopping carts are abandoned during online shopping. This means that typically two thirds of people that start and complete an online check out abandon it. It's widely suggested that this may be due to the site's user experience (or UX) – a concept that many businesses claim to have nailed and that others have catastrophically failed at.
At a recent round table our experts were keen to share best practice and explain how your business can create a great online user experience; Nadia shares their insights with us.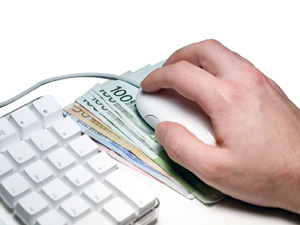 Get the Basics Right
Robert Fernandez, Director of furniture retailer Rattan Direct, explains: "You need to get the basic fundamentals right. For example, your website has to be clearly formatted and easy to navigate as well as fast-loading webpages and limited downtown – anything that is going to make the experience more convenient for customers."
It is a prerequisite for businesses to understand the customer journey and identify potential pain points such as filling in payment or address details. Companies can improve the overall experience for the customer tenfold by including elements such as automated postcode lookups at the checkout.
Mobile Optimisation
According to a recent study by Barclays, by 2024 UK consumers will be spending up to £53.6bn a year using their smartphones and tablets. Investment in mCommerce is now a major focus for online businesses. Kevin Jones of Manchester-based firm Tecmark says: "Businesses that don't consider mobile optimisation are missing a trick. Clunky design that's not compatible with different handsets can ruin the experience of the user. Designers must conduct a series of tests and be asking does this actually work on a touch screen? Web developers need to build websites that are responsive and effective on multi-screens."
Google's algorithm also favours 'mobile friendly' sites, so mobile optimisation doesn't just have a positive impact on UX but also your SEO.
Consistency with Brand Values
UX may start as early as when a customer first sees an advert for a product or service. This interaction gives them a sense of what that brand's about. If that brand's webpage is then visited and it looks slapdash at best, the user experience is already on a hiding to nowhere as there are inconsistencies in the way that business is portraying itself.
Tom New, co-founder of Formisimo explains: "Brand image and consistency are a really big part of UX. It's fine for a website to be rough around the edges and functional if that's what your business is all about, however if you portray yourself as high end but your online UX doesn't reflect that, there's a conflict there and it can be damaging."
Pay More Attention to CRO
According to the experts it's fairly simple to get the basics right and to get a customer to want to buy from you. However, many will fall at the final hurdle – the point of conversion or the commitment to a sale. The amount that businesses spend on attracting customers compared to getting them to convert is widely disproportionate.
If there is little investment in CRO (conversion rate optimisation) and the bulk of investment is put into advertising it is deemed as senseless. CRO should be something business owners should consider at the very beginning so that they are making the most of expenditure and investment in other areas can be adequately justified.
Offer Delivery Choices
Delivery options can also have an impact on conversion rates. David Grimes, MD of My Parcel Delivery says: "Delivery is a huge part of the buying journey. Offering multiple delivery options or free delivery can make a huge impact on your conversion rates as it's a real frustration for consumers to reach the end of the buying journey to be told there's additional cost. Businesses don't need to lose out as they can incorporate the cost of delivery into the cost of the product."
Get in touch for more information on how to meet other experts and share your insights at a UKFast round table!